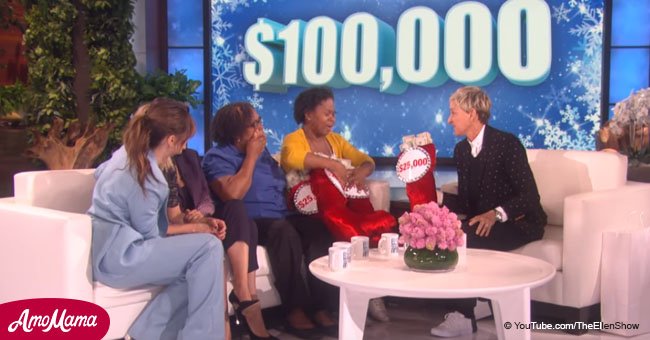 Single mom appeared on 'The Ellen DeGeneres Show' and left with $100,000 in her pocket
For single mom Ayesha Dixon life changed significantly when she appeared on "The Ellen DeGeneres Show". She was gifted with $100,000 courtesy Ellen and the stars of "A Bad Mom's Christmas" Kristen Bell, Mila Kunis, and Kathryn Hahn.
Two years prior to last year's visit Dixon attended Ellen's Mother's Day special. On this particular episode moms-to-be are gifted with every imaginable item to take their baby into toddlerhood. At the time she was pregnant with her daughter Phoenix. She was excited because she had recently joined a group for single and pregnant mothers.
When Ellen invited her to share her story last October, little did Dixon know how her life would change when Ellen asked her about giving back.
"I'm a single mom, and it's been difficult. As much as I like to give back I don't have much to give, but I try to volunteer."
Ayesha Dixon, 'The Ellen DeGeneres Show', October 27, 2017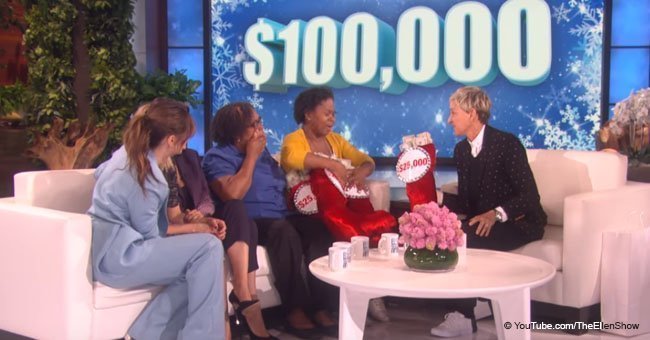 Source: YouTube
Dixon spoke about how Ellen's show inspired her and she cited several inspiring stories.
"I watch your show and people are pushing their cars to work and there are eight people in an apartment. And for me and my daughter, as long as our bellies are full and I have a roof over my head, it's been just amazing."
Ayesha Dixon, 'The Ellen DeGeneres Show', October 27, 2017
At that point Kunis said that she, Bell and Hahn had a surprise for Dixon. One by one, they gave Dixon stockings filled with $25,000. DeGeneres added a final stocking, bringing Dixon's total to $100,000.
Kunis explained why the cast felt so inspired to surprise Dixon.
"Our movie is all about celebrating moms and celebrating how hard it is to be a mom, so we just wanted to help you out a little bit because you deserve it because you're an awesome mom."
Mila Kunis, 'The Ellen DeGeneres Show', October 27, 2017
The spirit of giving continues on Ellen's show. In July Ellen highlighted a woman who could hear thanks to her mother-in-law and surprised them with a check.
Please fill in your e-mail so we can share with you our top stories!