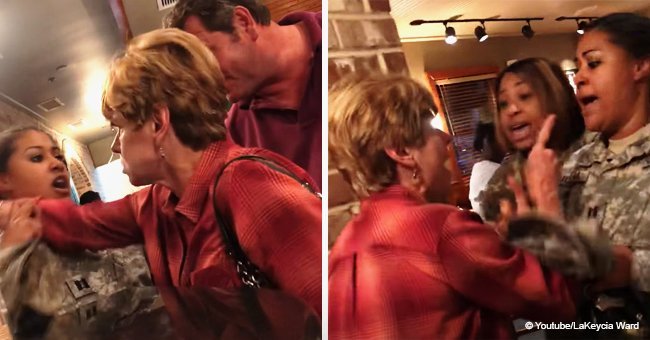 White pensioner woman assaulted pregnant Black officer over parking space
Judy Tucker – a 71-year-old pensioner – and her son Robbie assaulted two black female army soldiers over a parking space. One of them was pregnant.
In the video that LaKeycia Ward, one of the witnesses, uploaded to her YouTube channel, Judy appeared in front of servicewomen Stephanie Mitchell and Treasure Sharpe arguing with them.
As Mirror reported, the incident started in the parking lot of a Cheddar's store in Macon, Georgia. Stephanie and Treasure were backing into a parking spot when Judy's son, Robbie, approached them and said that they should learn how to park, and then insulted them.
Both women didn't do anything at that point as they just walked into the restaurant. However, Robbie approached them again and called them black lesbians, followed by other insults.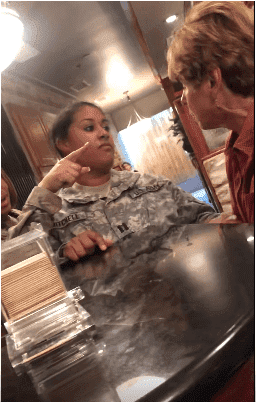 Source: YouTube/LaKeycia Ward
He also said that he didn't know that the army allowed lesbians to serve. When LaKeycia heard all that, she started filming the incident. Her clip showed how Treasure used her phone to record Judy, but she tried to grab it saying that she didn't have the right to take a picture of her.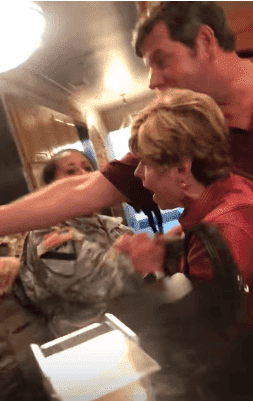 Source: YouTube/LaKeycia Ward
While Stephanie was trying to calm Judy down, Robbie quickly attempted to take the phone off of Treasure hands, but people from the restaurant saw his behavior and started shouting, so the man stopped.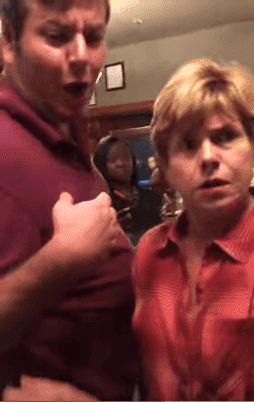 Source: YouTube/LaKeycia Ward
Later, Treasure told Judy and Robbie that she was pregnant, but the senior lady wouldn't listen and, since Stephanie was in front of her trying to keep things as pacific as possible, Judy hit her in the face and pushed her.
People from the restaurant gathered around and protected both servicewomen, and the staff of the Cheddar's restaurant then kicked Judy and Robbie out of the establishment.
Mirror added that the Bibb County Sheriff's Office arrested Judy on a charge of simple battery and released on a $590 bond. Robbie was not charged as the Sheriff decided that Judy was the primary aggressor.
Judy told the police that she was angry with Treasure for taping her and tried to grab the phone and that Stephanie scratched her arm. According to her, it all started because she was white.
A DIFFERENT CRIME OVER A PARKING SPOT
In July 2018, the CCTV cameras of a convenience store recorded how Michael Drejka was arguing with Markeis McGlocton's girlfriend, Brittany, over a handicapped parking space.
Inside McGlocton's car, his three-year-old and four-month-old children were sitting with their mother. Soon after that, the victim was shown getting out of the store and walking toward Drejka.
Without exchanging words, the father of three pushed Drejka, who fell to the ground. Soon after that, he sat up, pulled a gun out, and shot McGlocton to death in front of his family.
Please fill in your e-mail so we can share with you our top stories!