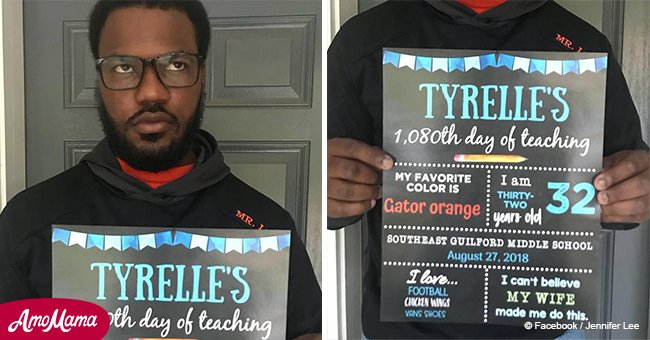 Funny 'Back-to-School' sign made for a teacher by his wife blew up the Internet

Many photos of children holding their first-day-old-school signs recently filled the Internet, so Jennifer Lee considered that her husband, a teacher, should have a sign, too.
On August 27, the day Tyrelle Lee went back to school, Jennifer uploaded a photo to her Facebook page showing her husband holding a sign very similar to the ones parents made for their children with general information about him.
It had Tyrelle's name, it said that it was the man's 1,080th day of teaching, that his favorite color was gator orange, that he was 32 years old, the school he worked in, and the things he loved, including football, chicken wings, and Vans shoes.
The funniest aspects of it were Tyrelle's face, which showed that he was not comfortable holding that sign, and the text in the last box that read: "I can't believe my wife made me do this."
As Huffington Post reported, Tyrelle teaches eighth-grade social studies at Southeast Guilford Middle School in Greensboro, North Carolina. Jennifer told him that she would make a sign a couple of days before that photo, but he thought she wasn't serious.
WHERE DID JENNIFER GET THE INITIATIVE?
The proud mother of one confessed that she saw a lot of parents posting pictures like that one of their children all the time, which she considered were adorable.
Follow us on our Twitter account @amomama_usa to keep in touch with our content.
"Our daughter isn't quite school-age yet, so I thought with Tyrelle going back to school to teach a new year, it would be funny to make him do a picture with his very own sign! He always goes with the flow, so I figured he would go along with my plan, even if he wasn't thrilled about it!" added Jennifer.
PEOPLE'S REACTION
The woman confessed that several people and teachers from all over the world contacted her and Tyrelle to congratulate them on their funny initiative and to ask them where they got the sign. Jennifer pointed out that it was also a great way for Tyrelle to connect with his students.
A DIFFERENT TEACHER RECEIVING A GIFT
An Alabama teacher broke down in tears when the parents of one of her students gave her the keys to her new car. Courtney Adeleye, the CEO and founder of The Mane Choice hair care products, knew that she had to help her daughter's teacher when she learned that she was undergoing a tough financial situation.
Adeleye went to a local car dealership and chose a beautiful new vehicle. She then wrapped it in a bright blue ribbon and surprised the teacher. The woman couldn't hold back her tears and did nothing but hug and thank Courtney.
Please fill in your e-mail so we can share with you our top stories!