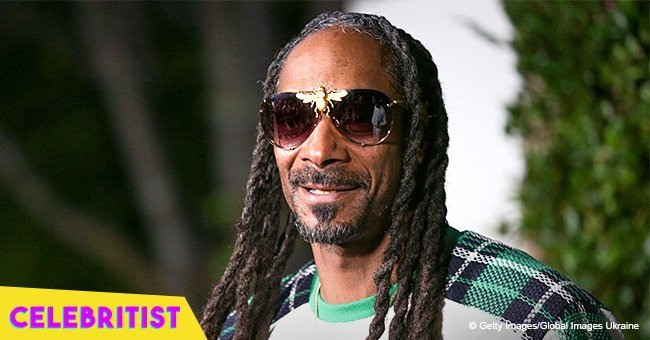 Snoop Dogg's teen daughter glows with happiness in her boyfriend's embrace in new photo

Snoop Dogg's daughter, Cori Broadus looked all grown and in love in a picture with her boyfriend. Considering what Cori said of her protective father some years back, we're not sure Snoop will be happy with the intimate photo.
Cori glowed with happiness as she stood in the embrace of her boyfriend, EZ. The couple was matching in bomber jackets and EZ, who hugged Cori from behind, wore a Lakers snapback.
Cori captioned the photo:
"Best til the wheels fall off #Cori&EZ"
The 19-year-old budding musician and her partner met in school and started dating in Eighth grade. Since then, they have been going strong as can be seen from Cori's social media pages where she shares sweet moments of their relationship. The two also have a shared YouTube channel and recently held a Question-and-Answer session with their fans.
Cori, who was diagnosed with Lupus as a child, agrees that her father is very protective. She once said he told her she could get a boyfriend only when she's 77 years old, so we don't know if he'll be too impressed with his baby girl's latest picture.
Snoop, real name Calvin Cordozar Broadus Jr., may prefer Cori focusing on her music career instead.
From a young age, Cori had shown interest in going the same route as her father. Her debut song "Do My Thang," was released when she was only 11. More recently, she released "Daddy's Girl" in 2012. The single featured Snoop Dogg and had a fair reception among listeners.
Following "Daddy's Girl" Cori dropped more tracks, including "Outside" and "Sittin' In My Room" in 2016. Leveraging her father's influence, the teenager also got to work with "God's Plan" singer and rapper, Drake.
Cori is very dear to her parents, Snoop and Shante Broadus, who might not be together today were it not for her. In 2004, Snoop filed for divorce from his wife, citing irreconcilable differences.
It was during that period that their daughter was diagnosed with Lupus and both parents decided to set aside their differences. They renewed their wedding vows in 2008.
Now, Cori is no longer a kid and is enjoying a love of her own.
Please fill in your e-mail so we can share with you our top stories!