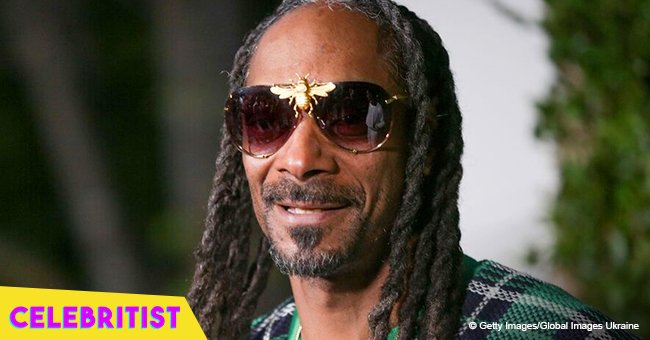 Snoop Dogg's daughter hugs young rapper in new photo after revealing their relationship status
Cori Broadus looks stunning and happy in a new picture shared to her Instagram account as she hugs a handsome young rapper, days after making a statement about their relationship on their shared Youtube channel.
Cori is the youngest daughter of Snoop Dogg and Shante Broadus, and like her father, she's already making her way into the music industry. But instead of rapping, Cori is the owner of an incredibly sweet voice.
Last May, she released her first single, "Same," and she followed the jam with a duet called "New Phone, Who Dis?" featuring rapper Kamaiyah. The 18-years-old, who decided to shave her hair earlier this year, shows an incredible confidence in both her looks and her music.
Now, in an effort to connect on another level with her fans, Broadus created a new YouTube channel with a young man known as Ez or Eazy. Until now, they have made a Q&A, and challenges like "Would you rather?" "Who's most likely to?" and "Never Have I Ever."
But the chemistry between the pair is so strong that fans started to wonder the real nature of their relationship, so, to put the record straight, they made a video titled "The truth about Cori and Ez." On the fifteen minutes long video, the pair told the story about their relationship from the start.
Cori revealed that they met each other when she saw him on social media and asked some friends to introduce them. They started talking and "vibe" with each other, but Cori was dating another guy, so they kept things friendly even though Ez was clearly interested in something more.
Afterward, Broadus ended things with her then-boyfriend, and she and Ez gave dating a try. But three days after he made her his girlfriend, Broadus, who was clearly not over her ex, went to see the man in question.
After she confessed her actions to Ez, he got mad. What followed were months of uncertainty for the pair, but eventually, they decided to be on each other's lives as friends only. So, now they call each other "best friend," even if fans say they clearly have stars on their eyes when looking at the other.
On a recent pic Cori shared to her Instagram, she's snuggling up to Ez with a smile on her face and eyes closed as the young man looks fondly at her with an arm around her shoulders. On another pic shared to Ez's account, the pair was caught on a similar position, and he wrote in his caption:
"Surround yourself with peace and positivity me and my best good vibez only."
Watch Cori and Ez' video below:
Cori is planning to release her first EP in late August.
Please fill in your e-mail so we can share with you our top stories!