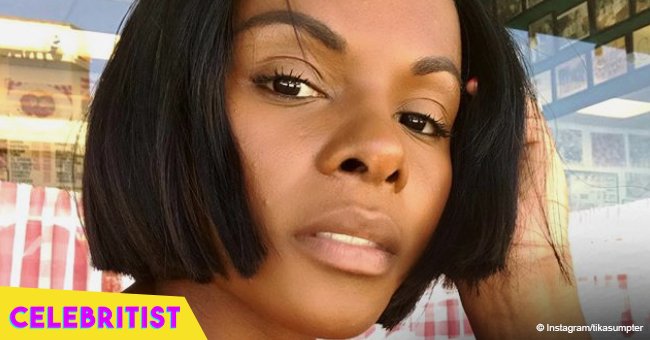 Tika Sumpter flaunts enviable curves in mini dress and silver high heels in recent picture
Modeling for an Australian clothing brand, Tika Sumpter flaunted her gorgeous outfit in a series of photos she posted on Instagram. The stunning ensemble featured a mini dress and silver high heels, which flashed her long toned legs.
Tika Sumpter's physique is made for modeling, and she's been making the most out of this gift by endorsing different brands like Zimmermann from Australia. Her unique dress featured a high neckline and featured floral patterns with lace cut-out details.
Making sure that the beautiful dress would get all of the attention, her stylist swept all the hair off of her face and tied it in a neat bun on top of her head.
RecGiven the dress' floral details, Tika's makeup featured a pinkish-plum glow, consisting of heavy blush, highlighter, and eyeshadow, which highlighted her facial structure. Posting a more close up view of her styling, she appears to have a single braid on her head, which was also tied up in the bun.
Recently, she has been the subject of controversy after people have taken offense at her interracial relationship. Her beau Nick proposed to Tika during their daughter's first Christmas on Earth, and during her first Mother's Day, he made sure to greet her and tell her she was doing a great job.
"Happy Mother's Day to my queen! Thank you for birthing our gorgeous girl. You're the strongest woman I know and I couldn't have asked for a better partner to teach our little gift from God. Love you!"
This sweet exchange comes after Tika revealed on "The Real" that she's been trying to protect her daughter and Nick from rude fans.
"I didn't want to hear, 'Who's the dad?'" Social media can be harsh, and I'm a mama bear, protective of my family. So that's why I waited to tell people, including some of my friends."
However, she didn't let what her fans have been saying affect the way she lives her life, as she has been living happily with her little family.
"Ella's such a lucky girl. Nick James, you are an amazing father. I could not have asked for a funnier, more present and loving partner. Thanks, daddy, for sending me a good one."
Please fill in your e-mail so we can share with you our top stories!