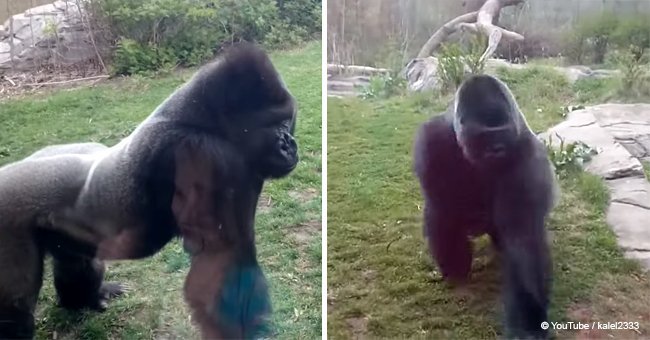 Huge gorilla stares at visitor filming him but then seconds later, footage turned scary
The family was watching the gorillas in their enclosure when they had a terrifying experience at the hand of one of the large silverback males.
Kevin Cave took his children to the Henry Doorly Zoo and Aquarium in Omaha, Nebraska, in April 2015, where they got quite a scare at the silverback gorilla enclosure.
The family had been watching the seemingly peaceful animals, and Cave had decided to take out his camera phone and record them. The two gorillas appeared to be grazing, one of them just on the other side of the glass from the family.
But when Cave panned to the gorilla standing further in the background and the creature locked eyes with him, he immediately felt something was not quite right.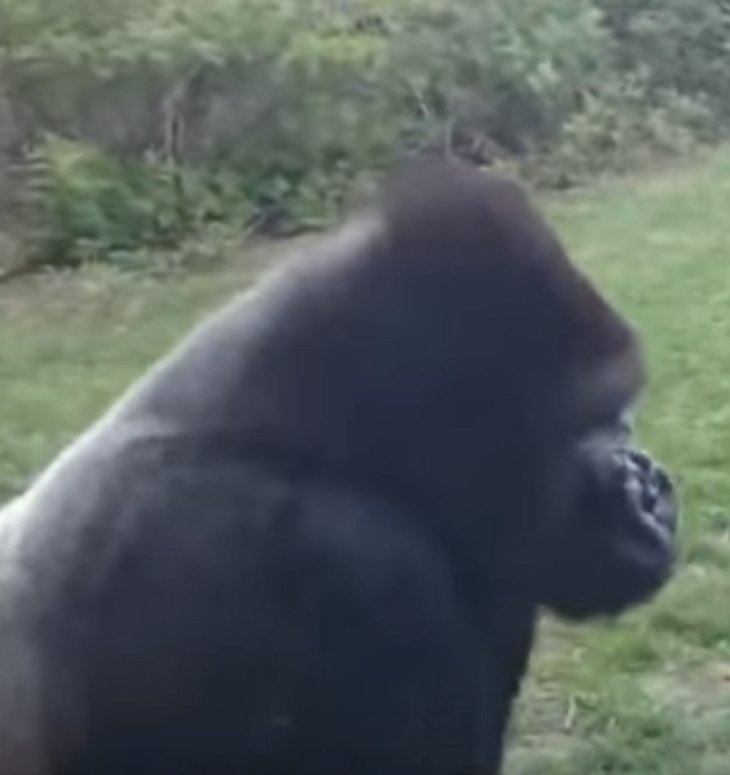 Source: YouTube/kalel2333
As the gorilla turned to look at him, it suddenly started to move closer to them, taking just a few steps before deciding to rise up onto its hind legs and charge at them.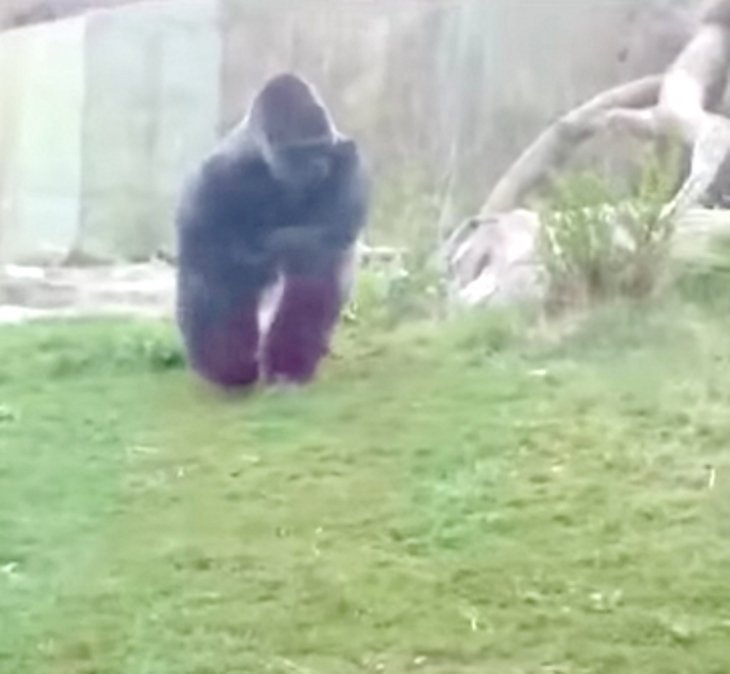 Source: YouTube/kalel2333
The gorilla quickly gained speed as it charged down the hill, seemingly heading right for the family. In the background of the video clip, Cave could be heard getting increasingly nervous as the gorilla got closer to his family.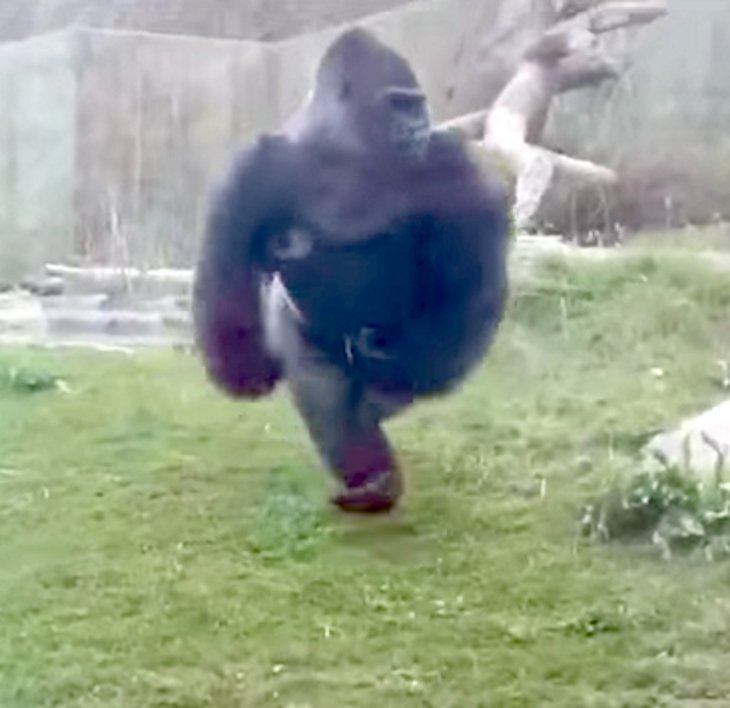 Source: YouTube/kalel2333
As the male got right up to the glass, Cave took a step back, and just in time too as the gorilla jumped straight into the glass, causing it to instantly crack under the pressure of his weight.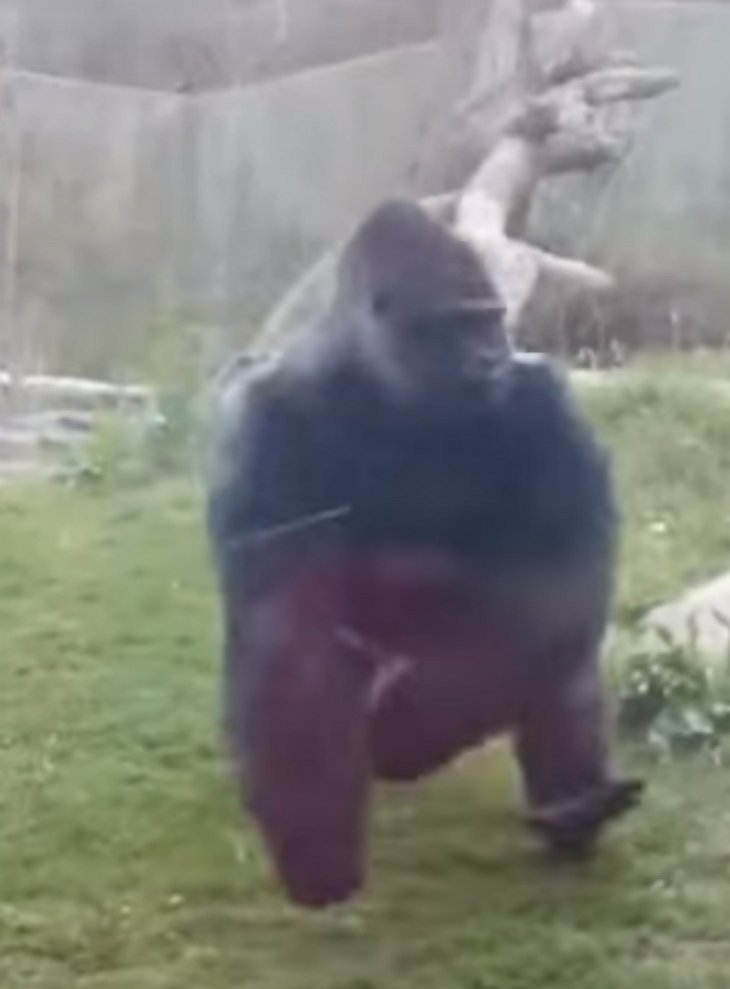 Source: YouTube/kalel2333
With the camera still rolling, the family can be seen turning to run out the door behind him, with Cave's daughter appearing utterly terrified at the close encounter.
In the meantime, while Cave claims he believes the gorilla was targeting him, experts on the animals say differently.
Zoo curator Dan Cassidy explained that the three gorillas in the enclosure are all males reaching adulthood. At this stage in their lives, they are often involved in fighting, and the gorilla jumping into the glass is a display of dominance over his peers.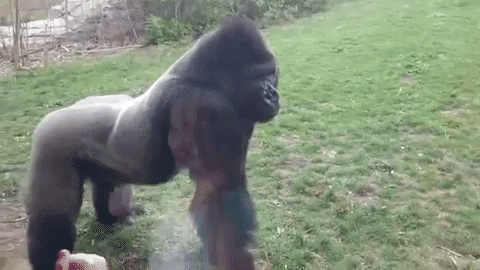 Source: Giphy
In addition, staff at the zoo have stated that while scary, the family was never in any real danger, as the enclosure is made up of three layers of glass, and the gorilla, a 20-year-old named Kijito, only broke the first layer of the glass.
The panel of glass was repaired shortly after the incident.
Please fill in your e-mail so we can share with you our top stories!