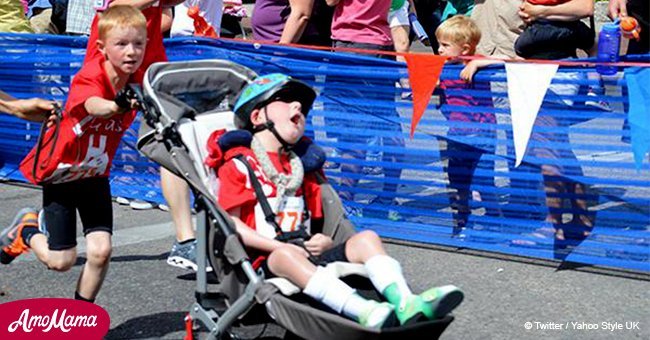 Disabled boy 'runs' marathons with a big assist from his brother
Lucas Aldrich, a young boy with a disability, joined a triathlon with his older brother, Noah. The siblings trained and together, they conquered the race.
The brothers from Idaho inspired many people with their determination to finish the mini-triathlon for kids held on July 12, 2014, in Boise, Idaho.
At the time, Lucas was only six years old, and Noah was eight.
Noah was the one who found out about the competition and told his mother that he wanted to join the race with his little brother.
Follow us on AmoMama USA for more stories and updates.
Lucas was born with a rare type of brain malformation called lissencephaly.
As a result of his condition, Lucas can't talk and walk. He also can't do daily routines like eating or taking a bath on his own.
Despite being unable to do the most basic things, Lucas took pride in being able to say that he had surpassed a triathlon with the help of his brother.
The boys' mother, Alissa Aldrich, shared that her sons spent three whole months to train.
At the time of the race, Lucas and Noah were called Team Lucas House, which was named after the non-profit organization Alissa put up in tribute to her son.
They began with a 200-meter swim, where Noah was swimming and pulling Lucas along in a raft.
Afterward, the biking leg of the race had Noah pedaling while Lucas was riding along in a bike trailer.
Lastly, the one-mile run was a bit of a challenge since Noah was very tired at that point. Although, he showed his determination as he pushed his brother over the finish line in his chair.
Speaking with the Daily News, Alissa said, "It was a little nerve-wracking but exciting and exhilarating at the same time. And we're definitely proud. As a parent, it was a pretty incredible thing to watch."
As for Lucas, Alissa said he was very happy after the race. She shared that somehow, Lucas knew he was part of a special and big accomplishment.
Since they were younger, Lucas and Noah always had a special bond. They loved spending time together, watching cartoons and riding bikes.
Speaking with KTVB, Noah shared about his brother, "I like everything about him, he's perfect."
Evidently, the two brothers have a special connection that even obstacles can't seem to break.
Meanwhile, 7-year-old Aynslie surpassed a 5km run in West Palm Beach, Florida, despite having an external metal fixator attached to her leg.
The six-pound metal fixator did not stop the young girl from finishing the race. Her mom captured the moment in a heartwarming video.
Please fill in your e-mail so we can share with you our top stories!