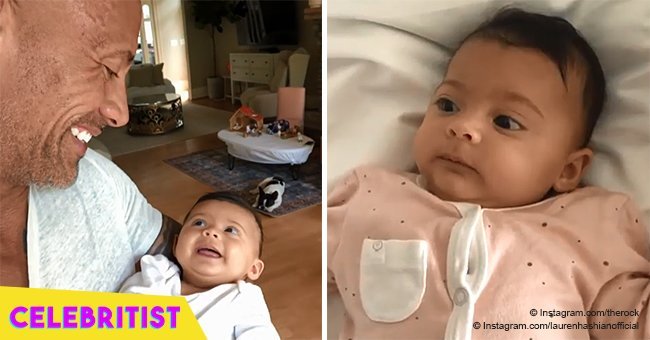 Dwayne Johnson's cute conversation with his baby daughter quickly goes viral
Dwayne "The Rock" Johnson's three-month-old daughter, Tiana Gia, may not have started talking yet, but it looks as though she does not hold back from expressing what goes on in her head.
An adorable video of baby Tiana having a conversation with her father one morning was shared by Johnson's girlfriend and the beatiful baby girl's mother, Lauren Hashian, to her Instagram account.
The video starts with the 48-year-old actor chatting to his daughter happily in their "morning convos." Tiana, although unable to speak yet, gives out an excited little gurgle at her father's voice, after which he proceeds to ask just how she would like that, with mom chiming in in the background.
He asks, "Would you like those chilled or...?" And Hashian adds, "On the rocks?"
She then gives a few more happy gurgles and giggles, looking around with her beautiful big eyes at her parents.
"Yes we can go there," Johnson answers, and the response seems to elicit a huge bug grin from Tiana before letting out some more incomprehensible squeals.
As a reply to his daughter's latest answer, Johnson says that he loves the fantastic idea too.
When asked by Johnson if she would like to say something more, Tiana smiles and gives out a new screech, different from her previous ones.
Johnson then asks her what she would like, but is cut-off when Tiana lets out her loudest scream yet.
The video concludes with the former WWE star saying that he and Hashian love the song as well.
The famous Hollywood action movie actor also has another daughter with Hashian in addition to Tiana Gia: two-year-old Jasmine Lia. He first announced the birth of his second daughter on his social media accounts.
Johnson was previously married to his manager Dany Garcia in 1997, and the couple had a daughter, Simone, four years later, in August 2001. They announced their divorce six years after the birth of their daughter in 2007.
The "Jumanji" actor keeps his 112 million Instagram followers updated by frequently sharing photos and videos about his work, family, and other activities.
Hashian also took to Instagram on Father's Day in June with a beautiful post dedicated to Johnson.
"I already love you but to see you as a father made me fall in love you even more. Playing and laughing constantly every time you're together. Leading with your wisdom, guidance, patience, and compassion as they grow up. Always asking yourself how can I be the best father to each of my girls. Doing things to help me be the best mom I can. Allowing our 2 year old daughter to hold you hostage in her toy room daily, and steal your food from you every time you eat. Being so hands on even though sometimes it seems you work 8 days a week," she wrote.
In another video, the "Fast and the Furious" actor, who did not want anything to interrupt his girlfriend while she focused on taking care of their daughter, decided to lend her a helping hand.
Johnson shared a post on Instagram in which he was seen feeding Hashian as she nursed their now four-month-old daughter, Tiana.
The adorable photo showed the former WWE star sitting on his knees on the floor in front of his girlfriend, while Hashian sat cross-legged on the couch, feeding the baby.
In the picture, Johnson is holding a spoonful of food in his hand extended toward Hashian with a big smile on his face, clearly proud at the solution he has come up with for feeding her while she cares for their daughter.
Recently, the Hollywood star acknowledged the hard work of his stunt double, Tanoai Reed, by gifting him a brand new truck.
Johnson took to Instagram and shared a small video of him and Reed with his followers on July 30, 2018.
The actor had explained in the caption that his friend and cousin, Reed, was recently injured from a stunt-related accident and was recovering.
He said in the video that Reed had been working with him for the past 17 years before he decided to surprise him with the truck.
Please fill in your e-mail so we can share with you our top stories!