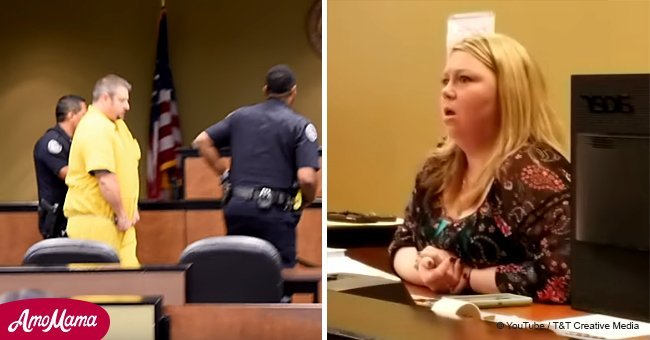 Man appears in shackles to propose to a Mississippi probation officer
The probation officer was confused to see her boyfriend in shackles as he entered the courtroom. Little did she know, it was part of the proposal he planned for her.
Tiffany Allison, who is a probation officer and house arrest coordinator under Justice Network in Desoto County, Mississippi, was stunned when she saw her boyfriend in a yellow jumpsuit, being led by officers towards the judge on August 15.
Sitting inside the Hernando Municipal Court, she was bewildered and flustered the entire time.
Her boyfriend Brett Stidham seemed ashamed as he was bowing down and barely made eye contact with his confused girlfriend.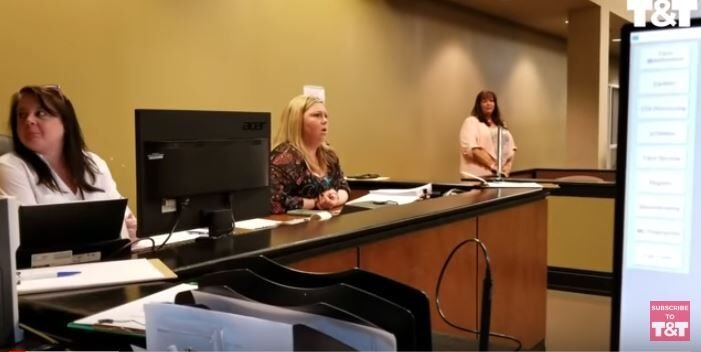 Source: YouTube/ T&T Creative Media
Follow us on Twitter at
AmoMama USA
for more viral stories and updates.
THE PROPOSAL
Allison barely had time to ask what was going on when Stidham spoke and confessed that he was guilty.
Addressing the room, he suddenly said, "I'm guilty of being madly in love with the girl of my dreams. She's my best friend; I'll forever be in love with her."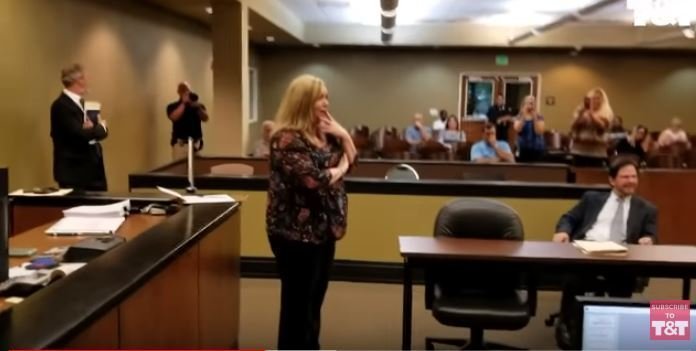 Source: YouTube/ T&T Creative Media
Allison was told to walk towards Stidham. Slowly taking little steps forward, Allison was shaking and had no idea what to do.
When she got closer, Stidham got down on one knee and proposed to his surprised girlfriend.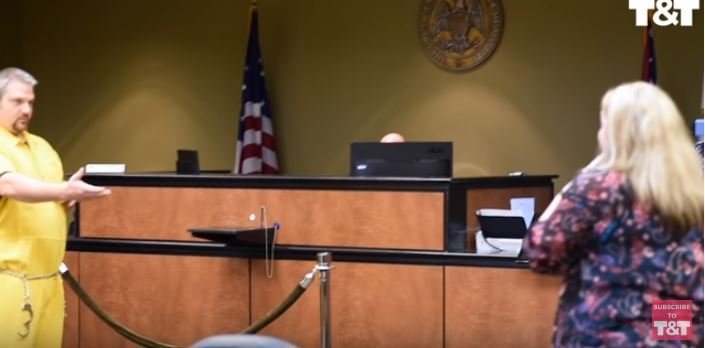 Source: YouTube/ T&T Creative Media
PLANNING THE PROPOSAL
Speaking about their relationship, Stidham said he knew right from the start that Allison was the one for him. At the time, he began thinking of ways he would propose to her.
"This idea was the first one I was contemplating, but I knew it would be a logistical nightmare to pull off - I told nobody about my plans until July 2018, almost two years into our relationship," he shared.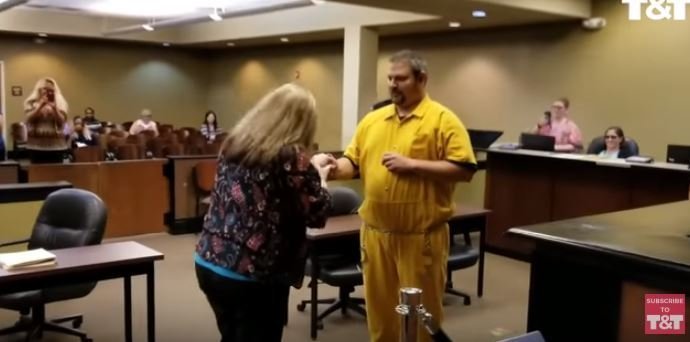 Source: YouTube/ T&T Creative Media
Stidham added that his girlfriend was close to her supervisor. He contacted her, and she was the one who was able to make the plan work.
The supervisor talked to the judge, the prosecutors, the court clerks, and the officers to help make Stidham's plan turn into a reality.
STIDHAM SAID, "IT WAS TRULY THE BEST DAY OF MY LIFE"
According to Stidham, Allison had no clue about his plans, and she never thought Stidham was going to make an extraordinary proposal as he did.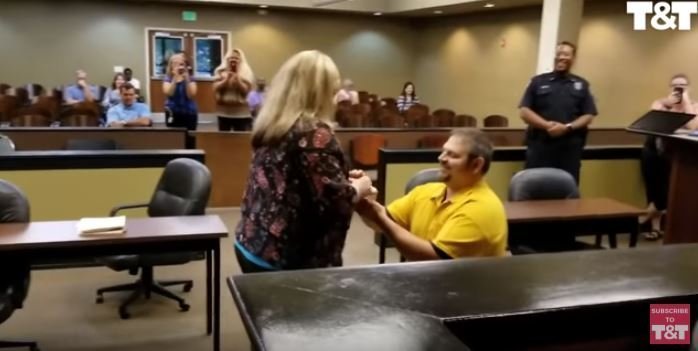 Source: YouTube/ T&T Creative Media
As for him, he
said
, "It was truly the best day of my life. My love for her is something so grand that my proposal had to be a big show."
In another related proposal story, a farmer was able to ask his girlfriend's hand in marriage with the help of her favorite cow.
Using a livestock marker, Chris Gospel wrote the big question on the side of the cattle, which took his girlfriend by surprise.
It was one of those unusual and completely unexpected proposals that became viral.
Please fill in your e-mail so we can share with you our top stories!