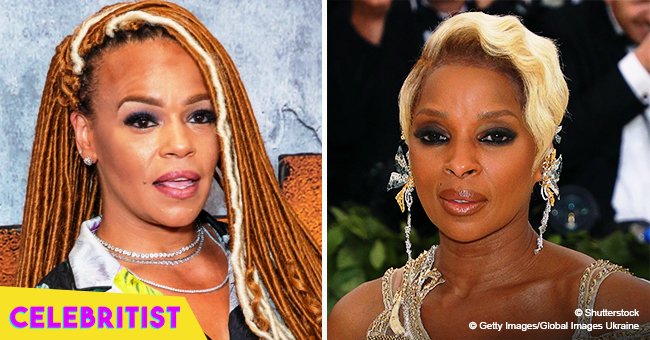 Mary J. Blige breaks her silence following a rumored altercation with Faith Evans
Mary J. Blige decided to set the record straight after rumors started spreading of her alleged altercation with Faith Evans.
The singer, who walked in a Dennis Basso show last Monday, decided to address a wild rumor circulating in the media saying that she fought with Faith Evans at a Diddy party at the Hamptons on the same night of the Cardi B and Nicki Minaj melee.
Mary proceeded to laugh at the rumor once she was asked about it, confirming that it was all made up. While speaking to Page Six, she said:
"Of course that was made up. I was shooting a movie in Louisiana . . . I just got here today."
Following her catwalk stint, Blige shares how she never would have thought that she would end up walking on a runway, much more during New York Fashion Week. According to her, she was a "tomboy" during her younger days, and being a fashion model was definitely not on her list of plans.
"I was a tomboy who thought about running in the streets or hopping a fence, playing basketball. I'm not gonna sit here and lie just because we at a fashion show. I just did not think about it, because I was not that girl."
However, Mary's talent and fame have brought her to NYFW this year, and she walked at Dennis Basso's show. As for her catwalk technique, she said that the secret was being confident.
Her catwalk stint came after she evidently lost weight, which she has been flaunting on numerous occasions. She attended New York Fashion Week with her friends, looking like the real stunner that she is. However, this time, she did so with a much slimmer physique.
The "Be Without You" singer released her exercise and diet routine in a previous interview, saying:
"My main exercise is cardio. The treadmill is fine but running outdoors gives me the best results. I try to log 6 to 8 miles a week. I could be in the worst mood, but when I do my cardio I feel much, much better."
After her constant hard work, Mary now gets to enjoy the fruits of her labor as she looks stunning in any outfit that she puts together despite being 47-years-old.
Please fill in your e-mail so we can share with you our top stories!