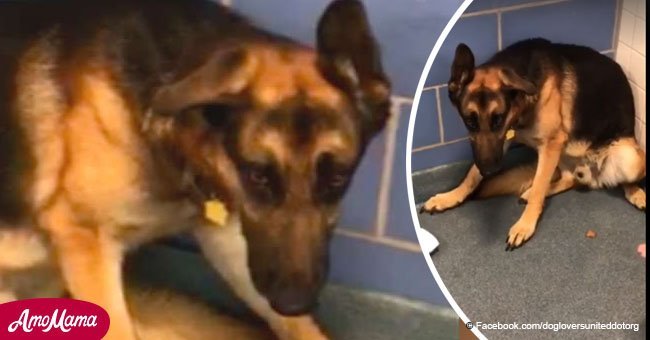 Loyal dog sits in a corner shaking after his family dump him at a shelter
A German Shepard named Rocco was abandoned at an animal shelter and its heartbreaking reaction was caught on tape.
The 3-year-old dog was recorded on camera hunching over in the corner of a kennel, seemingly frozen in fear. The video uploaded to Facebook also showed Rocco shaking with fear and refusing to move.
It could even be noticed that the dog had sad and mournful eyes as well as an empty gaze. Naturally, he must have been trying to make sense of his new environment and the new company he'd got.
Rocco was dropped at Dallas Animal Services in Texas because his family was having a baby.
Follow us on Twitter to learn more.
The video of him on social media was recorded by a woman and uploaded to Facebook, hoping to find a rescue that could give Rocco some extra care as soon as possible. As expected, Preethi Pillaipakkam soon stepped in to take the responsibility.
She told The Dodo that she was first surprised when she heard of Rocco's case. She couldn't believe that he was abandoned because his previous family was having a new baby.
"But once I saw how underfed he was, it did not surprise me. It is probably a combination of change in family situation, plus not [being] the best owners in the first place," she further explained.
Where he should have weighed somewhere around 85 to 90 pounds as a young German Shepard, he weighed only around 60 pounds. Clearly, the loyal dog was underfed.
Pillaipakkam explained that the shelter was not a place or environment for Rocco to grow up. He seemed weak and scared even to get into the car.
Even when he finally got on the vehicle with his new owner, he hid beneath the seat in the car and was pacing a bit.
In another dog rescue story, a homeless dog was hiding in a yard of one of the houses and was rescued amid fears of his safety.
Please fill in your e-mail so we can share with you our top stories!