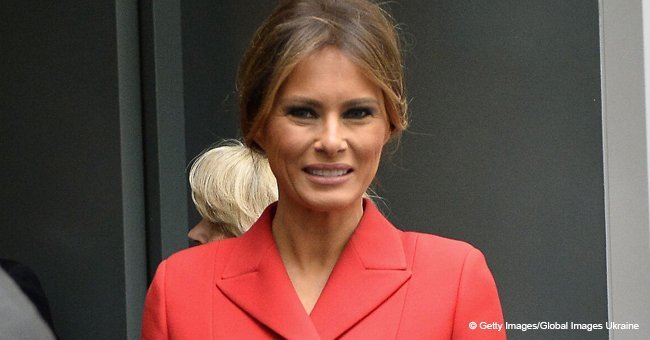 Melania Trump's September 11 tribute was criticized and called 'narcissistic'
September 11 is a day to pay tribute to the brave women and men who lost their lives 17 years ago.
Like people from all around the globe, First Lady of the United States Melania Trump commemorated the event on Twitter.
She posted a photo taken last year that shows herself and President Donald Trump as they are leaving the White House.
She wrote in the caption: "We Remember 9.11.01." Her critics have since taken to the social media platform and slammed the FLOTUS.
Read more on our Twitter account, @amomama_usa. The offending tweet can be seen below.
Many feel that it was inappropriate for Melania to post a photo of herself and the President on a day when she should remember true American heroes.
A user known as Elizabeth Judd said: "TO commemorate 9/11 you post an image of .... yourselves. Ok."
Another user, Etienne Laurent said that when someone posts about a tragedy, "a photo of yourself is never a good choice."
He added that when in doubt, a picture of the American flag will do, while another user added that there are more than enough suitable images available.
She said: "There are plenty of images available through Google that would be less narcissistic and self-serving."
Another user wanted to know why she didn't use the opportunity to "highlight some of the brave souls and family members directly affected that day?"
The President also came under fire for his tweet. He tweeted: "17 years since September 11th!"
In response to his tweet, Stephanie Tittle said: "This is not an exclamation point day. This, not a fist pump day. You sully the solemnity of this day."
Joseph Harris pointed out that Trump boasted about having the tallest building in New York while the "Twin Towers were still smouldering."
Trump also received criticism for the "double fist bump" he did when he arrived at the memorial grounds, causing Jim Harris to say "he defiles every space he inhabits."
One of the panelists discussing this said the President is grossly inappropriate and it appears as though he is "missing a human screw."
Please fill in your e-mail so we can share with you our top stories!