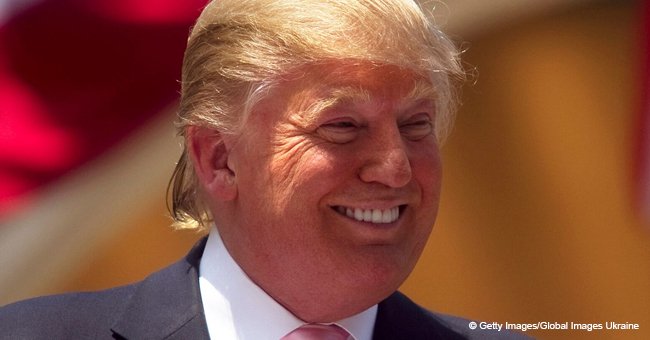 Donald Trump is severely criticized for his improper gesture before a memorial service

Donald Trump managed, yet again, to anger the American people by showing up to a 9/11 Memorial Service doing a double fist pump.
The President of the United States caused quite an uproar online after being photographed greeting his supporters with a triumphant gesture on Tuesday, September 11, 2018.
A video of experts discussing his actions ended up on Youtube and several people didn't miss the chance to attack Trump for his obnoxious behavior in a moment that was supposed to honor those who lost their lives in the 2001 terrorist attack.
Follow us on Twitter @amomama_usa to learn more.
It isn't surprising to find the 72-year-old in the middle of a controversy considering that it has become a common practice ever since he won the 2016 Presidential Campaign.
REMEMBERING THE VICTIMS
The President was accompanied by his wife, First Lady of the U.S. Melania Trump, to pay their respects to the fallen heroes of United Airlines Flight 93.
Ahead of the President's speech at the memorial event, Sarah Huckabee Sanders, the White House Press Secretary, shared that the day was about 'remembering the lives that were lost,' as well as those who put their lives on the line in the process.
PUBLIC CRITICISM
But while the day was supposed to honor those who perished in the 2001 tragedy, Trump managed to steal the show and people weren't happy about it.
Some couldn't contain themselves and took to Twitter to let their frustration out.
Stephanie Tittle was one of those people and she scolded Trump for doing the double fist pump gesture, writing that the President defiled the solemnity of the day and what it represented to the American people.
PUSHED AWAY
Trump's attitudes, actions, and opinions have caused others to not trust him and even keep him far away from important events, which was why he was asked not to be present at John McCain's funeral service in late August.
While former Presidents Barack Obama and George W. Bush were asked to deliver speeches at McCain's memorial, Trump was politely forbidden from showing up to the ceremony.
Please fill in your e-mail so we can share with you our top stories!