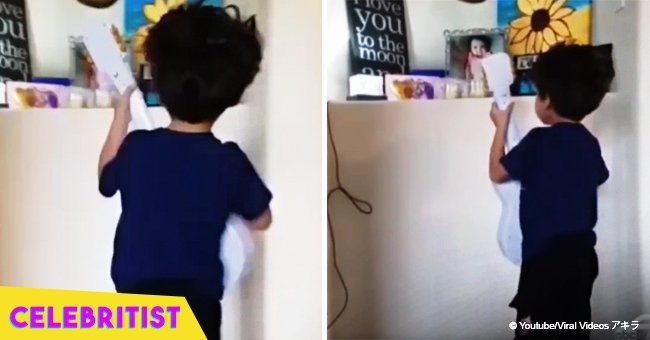 4-year-old boy sings 'Remember Me' to his late sister in heartbreaking video
A 4-year-old boy melted hearts all over the internet with his heart-wrenching rendition of Disney's "Remember Me" from the movie "Coco," while singing to his late baby sister.
Samir Deais and his wife, from San Antonio, Texas, suffered a terrible loss last year when their 4-month-old baby daughter, Ava, passed away after being diagnosed with hydronephrosis, a condition that affects the kidneys.
Despite going through such a difficult situation, the family managed to move on without forgetting about their little angel, creating a small altar in their home with photos and remembrances of little Ava.
On December 30, Ava would have been celebrating her 1st birthday, and to commemorate the occasion, her older brother Alex did an exceptional performance in front of her shrine.
His father recorded him but he was not aware of the cameras, and in the touching clip shared by Samir on Twitter, Alex is seen playing his white guitar, as skillfully as a 4-year-old can, while singing "Remember Me."
The song from Disney's animated film "Coco" won Best Original Song at the 90th Academy Awards in 2018, and its emotional lyrics have resonated with people from all over the world who have lost a loved one in their life.
"Remember me/Though I have to travel far/Remember me/Don't let it make you cry," the boy can be heard singing in the short clip.
His proud dad was moved by all the love he started to get on social media, and he sent a tweet expressing his and his wife's gratitude saying:
"My wife and were literally brought to tears seeing how much love Alex and Ava and our family has received. We were FLOORED last night!! I couldn't be more thankful. Thank you to everyone from our little family! What a 1st birthday baby girl! All Glory to God."
Read some of the comments that emotional Twitter users left under Samir's video below:
A 7-YEAR-OLD'S TRIBUTE TO HER OLDER BROTHER
The Mullet Family, from Pisgah Forest, North Carolina, are an inspiring Christian family that has been working to spread their faith and spiritually help people grow from their pain and stressful situations. They are part of the "From Pain To Purpose" ministry, and also work with the Gospel Express prison ministry.
The family had had their fair share of pain, as their lost their eldest son, Austin, when he was only 16. The boy struggled with health issues since he was born. He had a heart transplant at 8-months-old and battle two types of cancer before receiving a second heart transplant at 16.
Sadly, eight months after his surgery, a bacterial infection set in and took his life in less than a day. Austin was the eldest of five siblings and the only son of the family.
His little sister Kyra, 7, wanted to honor her brother's memory and did it wonderfully through a touching song. In a video clip shared to the family's YouTube channel, Kyra is seen singing to Christian rock band MercyMe's "I Can Only Imagine."
Wearing all white, the girl is seen visiting her brother's grave with her father and leaving some flowers for him. She also prays and walks through a church, imagines what it'd be like to meet again with Austin on a flower field and even draws a picture of Jesus, Austin, and her holding hands.
On their official page, the family said this about Austin:
"Austin's life was filled with many physical battles, but he conquered each one with an optimistic outlook and zeal and enjoyment of life that few people experience."
And continued:
"Although we will always miss Austin's lively presence in our home, we are grateful that he is eternally set free from all physical pain."
Tributes of this kind are always special, and no matter the situation, watching someone who lost a loved one honoring their memory through a song, dance or any other type of art form is always moving.
Please fill in your e-mail so we can share with you our top stories!