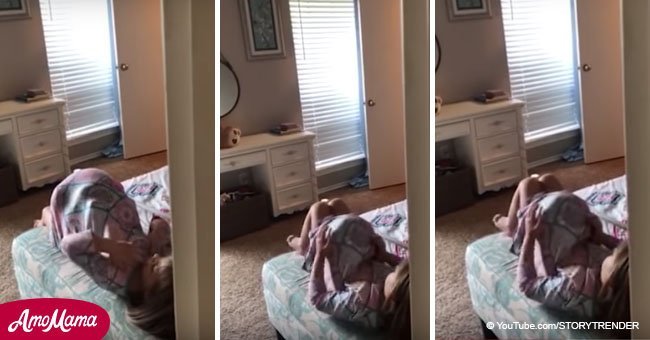 Adorable moment pregnant mother catches 4-year-old pretending to give birth to a stuffed toy
A 4-year-old girl named Adelaide Garvin was caught by her mother, ChristiAnne, pretending to be pregnant and giving birth in her room.
ChristiAnnestarted hearing her daughter panting and moaning and found her lying on her back mimicking the act of giving birth.
The mother, who is 14-months-pregnant, found the situation so odd and adorable that she couldn't help but share it with the world by uploading the video to Youtube.
Children can say the darndest things, but they can also be quite unpredictable; ChristiAnne certainly didn't expect to catch her daughter pretending that she was pregnant. Follow us on our Twitter account @amomama_usa to learn more.
A VERY CURIOUS CHILD
Apparently, the little girl had been spending some time watching her mother's pregnancy DVDs and decided to recreate a whole scenario in which she was having a baby of her own.
While ChristiAnnestands in the doorway, away from Adelaide's eyesight, the 4-year-old is seen faking a contraction and pain, after which she removes a llama plushie from under her t-shirt.
Adelaide didn't see her mother spying on her, but she also didn't hear her due to being hard of hearing. Plus, because she was diagnosed so late, she is yet to fully develop American Sign Language (ASL).
SUPPORTING HER MOTHER
According to ChristiAnne, Adelaide has shown quite a lot of interest in her pregnancy and it all started when she noticed that one of her teachers was pregnant.
The mother believes that being able to teach her daughter about pregnancy and the miracle of childbirth is 'one of the biggest blessings' she could ever experience.
THE SWINNEY BABY
But while childbirth can be a marvelous moment in a woman's life, it can be quite traumatizing when it happens around children. Recently, a 25-year-old name Alexis Swinney was forced to give birth to her baby inside a moving car.
Her husband, Dominique Swinney, recorded the everything while he was driving to the hospital and their children had to watch their mother give birth to a baby girl from the backseat. Definitely, a moment they will never forget.
Please fill in your e-mail so we can share with you our top stories!