Heart-warming moment a liitle girl laughs contagiously when her dad makes animal sounds
When this Washington DC dad decided to read to his one-year-old she burst out in infectious laughter.  Reading is an activity many parents and their kids enjoy but for this father and daughter it is more exciting.
If you can imagine a parent who mimicks the sound of animals and a child who giggles uncontrollably then you can imagine what bringing them both together would result in. This is what happened with Antonio and his daughter Autumn.
This heart-warming moment was recorded while they were reading on the floor. As Antonio read he began imitating the animals he was reading to Autumn about and she was delighted.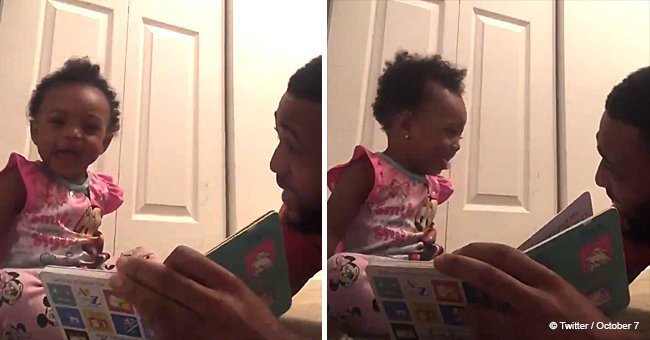 For Antonio and Autumn reading an illustrated animal book prove to be a very exciting option. Based on the reactions of those who viewed their video it is fair to state that they agreed also.
Heart-warming moment a little girl breaks into infectious laughter when her dad makes animal noises as he reads her a book https://t.co/wMZ2T9OvPl

— Daily Mail US (@DailyMail) September 12, 2018
He read: 'A cow say moo! The sheep say baa!
'The pig say oink! And the little dog say woof woof woof!'
Autumn who is dressed in a pink Minnie Mouse suit begins laughing and at one point tries to climb on top of him and then races towards the camera.  When she begins laughing he follows suit.
The one-minute video which shows these adorable moments was posted on Twitter on Sunday. In just four days it has been viewed over 2 million times, received over 43,000 retweets and over 150,000 likes.
READING TO MY DAUGHTER 😂💕 WE LITERALLY CRACKING TF UP... pic.twitter.com/ssBWHGpNHG

— BAGGZ (@Mxxch_) September 9, 2018
Little Autumn's video is following in the footsteps of the video that went viral where the little boy placed his head on the nurse's hand. This story which AmoMama shared with you includes a video which has been viewed over 16 million times in over a year.   
Like Autumn he was in a familiar setting for babies. The only difference however was that he was in a hospital clinic wearing nothing but his socks and his diapers.