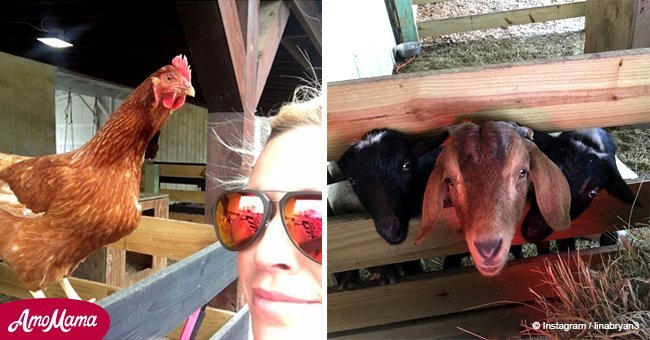 Caroline Bryan introduces fans to her pets' shenanigans at 'Brett's Barn'

Country star Luke Bryan's wife gave her followers an exclusive look into the couple's project, Brett's Barn.
Caroline Bryan posted two photos and two videos on Instagram back in February 2018.
The first picture shows Caroline next to a chicken. She explains the inevitable act that later happened after the shot.
Follow us on Twitter for more @amomama_usa.
Her caption read:
"2 seconds after I took this picture, she pecked the hell out of my ear. I guess she wasn't camera ready. Another typical day at Brett's Barn. Chickens, horses, and goats on a trampoline!"
According to Rare Country, the barn started after a promise was made to Caroline's late infant niece Sadie Brett.
It has grown into an interactive experience aimed towards giving children a fun environment at the mini farm.
Other animals on the property include pigs, miniature horses, and donkeys. Two kangaroos, Margo and Todd, might soon join the family as well.
Pekka and Mister are two mini llamas that were specially requested to join as well thanks to young Caleb.
Back in July, another animal lover was saved from having to kill over a thousand of his sheep when a harsh drought occurred.
Lee Jones, the owner of 1,200 sheep, was assisted by the Lions Club Need for Feed Disaster Relief. The Australian farmer was on the brink of going through with the horrendous but necessary act.
The drought had scorched the land and made it impossible for food to grow. Plus, Lee and his wife Laura were not financially able to purchase food.
Additionally, the sheep themselves could not be sold due to their debilitating condition.
But before the starving creatures were put down to end their suffering, a truck-load of feed came in with loads of hay and grain.
Other people helped Jones by contributing monetary donations to the couple.
Aussie Helpers' founder, Brian Egan, described the donations as the "difference between life and death" for the family. He had been working closely with them for some time.
Please fill in your e-mail so we can share with you our top stories!