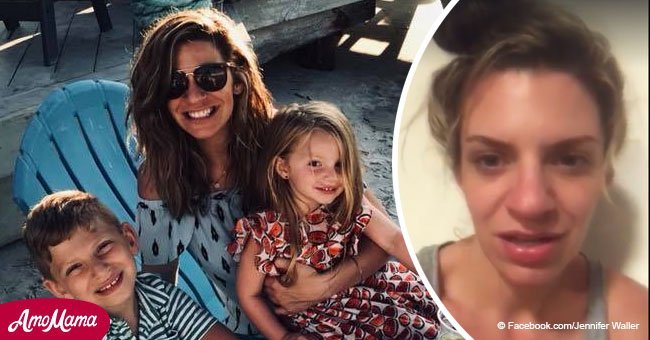 'Please get screened.' 32-year-old woman diagnosed with cancer warns everyone

Jennifer Waller, who was diagnosed with colon cancer, urged everyone to stay observant about their bodies in a video message she shared on social media. "Please get screened," she said.
Waller, 32, a nurse in New Jersey, took to Facebook on August 29, 2018, to share her story after she was diagnosed.
"So I would normally never put something so private on this platform, but I feel the need to make people aware of getting screened early for Colon Cancer," she captioned the post. Follow us on our Twitter account @amomama_usa to learn more.
"I was diagnosed with malignant cancer [six] days ago, and I want to make sure other young people get screened."
Waller had been suffering from weight loss and abdominal discomfort. When the young nurse decided to consult with her doctor, she was given a colonoscopy. Four hours later, she woke up to hear that she had cancer.
In the video, Waller said, "When I woke up he told me I had a large tumor. It was a shock because I can't have cancer. I'm a nurse."
"I take care of people. I tell people you have cancer. I treat you. I can't have cancer. Yet here I am, saying the words that make me so nauseas," the single mother to two children added.
Before getting the colonoscopy, Waller had previously had her breasts checked, and many blood tests run.
"I made this video because here in the U.S. you don't screen until you're 50 years old. That's 18 years from now," she explained. "I mean, according to my biopsy, I would be dead. And if I hadn't gone in and if hadn't been aware of my body, I would have been dead."
"You think about things you never want to think about. Who will take care of my children? What will I do? Can I afford treatments? Can I afford being off from work? I mean it's crazy. I wanted to make this video to make people aware of it because I think there are a lot of feelings that come with it that you can't necessarily stomach."
Though Waller didn't disclose the specific details about her diagnosis, according to her, it was spreading quickly.
"I'm not going to be a victim," she said. "I'm not going to feel bad for myself. I'm going to fight. I'm going to fight like hell and no matter where this road brings me, and no matter where I end up I'm always going to be on top. So cancer, let's dance. I'm ready."
According to the American Cancer Society, people who are at a higher risk for colon cancer include overweight or obese, are physically inactive, eat a diet high in red meat, smoker, and alcoholic.
Please fill in your e-mail so we can share with you our top stories!