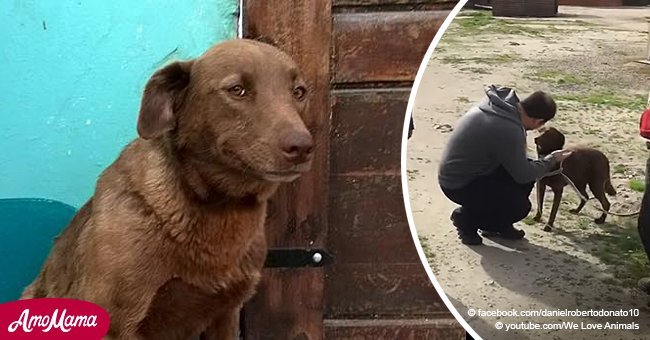 Dog is depressed after two years alone in a shelter until she encounters a familiar smell

For two long years, the tender little dog, Pakita, looked forward to the moment when a family would finally adopt her and take her home, but she was always ignored.
Little Pakita was left at the Arca Animal shelter in Argentina, by a person who said she found her wandering the streets two years ago. It was there that Pakita was received with open arms by volunteer Silvia Ferreyra and her colleagues.
But the dog was still sad and very socially withdrawn. And for that reason, the families that visited the refuge in search of pets to adopt ignored her, opting for younger and happier puppies
"People prefer puppies," Ferreyra told The Dodo. "So she stayed with us two whole years."
What they did not know, of course, was that Pakita already had a home and a best friend who deeply misses her, as revealed by a video that recently went viral. Read more on our Twitter account @amomama_usa
Pakita was so depressed that even taking a picture of her was difficult, always hiding and turning, even when Ferreyra just tried to caress her. However, the caregivers did not give up on her. And one day, they managed to take a decent photo of the dog, publishing it online on adoption lists.
"Immediately, we received a message from a woman saying that the dog was her son's and that they had been looking for her!" Ferreya told the same source.
The woman's son, Ariel Naveira, had practically lost all hope of seeing his beloved dog again. She ran away from home a couple of years ago, and despite an exhaustive search, they never saw her again. Could she really be the same dog?
The next day, Naveira arrived to confirm if it really was his lost pet. When they meet, the dog was withdrawn as usual. Apparently, even she could not believe that she really knew the person who had come to see her.
But that changed. After cautiously approaching at first, Pakita smelled a familiar scent and then burst out with a bliss she had not shown in years. "From that point, there was no doubt," said Ferreyra.
"It was beautiful," Naveira told The Dodo, remembering the moment. "I was sad to have lost her, but recovering her was spectacular, there are no words to describe it."
The case reminds us of a video footage that showed Charlie the beagle greeting his owner when he returned home after traveling for 18 months.
He is seen jumping up to the man and howling without a stop while wagging his tail. It is clear that the dog missed his owner immensely and is overcome with emotions as he reunites with his favorite human being.
Please fill in your e-mail so we can share with you our top stories!