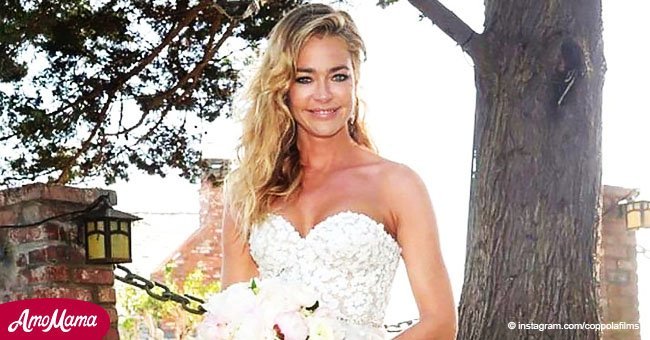 Denise Richards' wedding dress has caused a serious debate among fans

Denise Richards had a rushed marriage to the love of her life. Her white wedding dress was also rushed and some fans are calling it out.
Richards revealed in early August that she would be part of the cast for the ninth season of "The Real Housewives of Beverly Hills."
Within weeks she dropped more big news. Richards and her boyfriend Aaron Phypers had gotten engaged. They got married two days later.
Follow us on Twitter for more @amomama_usa.
Richards confirmed all this herself in a video posted by Daily Dish on September 8. The 47-year-old actress said:
"Yep, the rumours are true. This is my husband Aaron, and we just got married."
The pair had been dating since December 2017. They tied the knot just weeks after Phypers and his ex-wife Nicollette Sheridan finalized their divorce.
Phypers and Sheridan lasted only six months as a married couple before their separation in July 2016. Sheridan also previously starred in the "Desperate Housewives" show.
Richards said of her new husband:
"I am so happy to officially be married to the love of my life. I can't wait for everyone to go on this incredible journey with me this season on The Real Housewives of Beverly Hills. It has been a wild ride so far!"
Mark Zunino designed Richards' dress for her new wedding. Considering he had less than 24 hours, it's no surprise that the dress lacked a traditionally familiar extravagance.
In the resulting photo Zunino posted with Richards wearing the dress however, he showed confidence about his creation.
He captioned:
"24 hours to make a wedding dress? NO PROBLEM!! Congratulations to Denise Richards and Aaron Phypers! Thank you for letting us be a part of your special day!"
The dress featured a bustier tube bodice adorned with floral appliqués along with a tulle skirt. The majority of fans loved the dress.
To those who didn't Zunino said this:
"I don't think we've ever had a wedding dress create more split opinions than the dress we just did for Denise Richards! Here's our thought: we work for the bride/client. "As long as they're in love with the design, we feel we've done our job."
Some commented on the lack of material, saying how it matches the limited time. Others said it was more suitable for "going to the Oscar, not her wedding."
Supporters like Lauri Harvey said: "Awesome job and 'deaf tone' the haters! Very stylish - not too much leg - and a perfect design for Denise."
While Kristine Skocpol-Saleh wrote "That dress is gorgeous... I would wear it... to anybody that's criticizing the dress... You're crazy jealous and/or you have no sense of style."
Meanwhile, Instagram user Christina explained her issues with the dress to Zunino:
"I agree that people can be harsh and it wasn't their wedding or their wedding dress to judge but I have seen your work and you are a bit more artistic and classier with your design so I was a little disappointed but then again I'm not the bride and it's not my wedding but thank God it was her second."
The former "Bond" star was married to actor Charlie Sheen years before her new beau stepped into the picture.
Richards and Sheen wedded in 2002 and had two daughters, Sam,14, and Lola,13, before their dramatic divorce in 2006.
Richards later adopted a baby girl, Eloise, in 2011. She also took in Sheen's two twin boys after Sheen's messy custody battle with ex Brooke Mueller but gave them up in 2013 due to violence towards her daughters and pets.
Please fill in your e-mail so we can share with you our top stories!