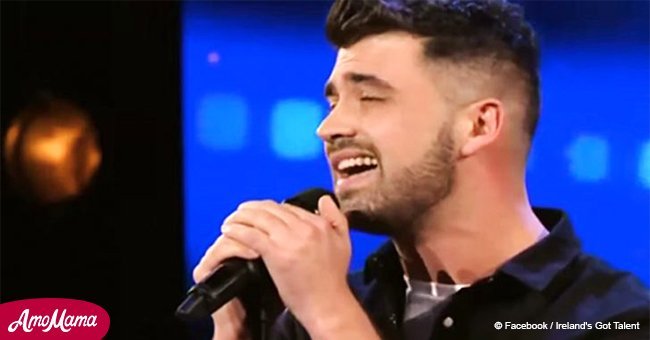 Man wins Golden Buzzer with emotional performance of 'Don't Close Your Eyes'
'Ireland's Got Talent' contestant Christopher King impressed everyone with his spectacular vocals. But then it was the host, Lucy Kennedy's turn to surprise him.
A video of the show's episode uploaded to Facebook showed the singer showcasing his beautiful voice. But even before he had had a chance to flaunt his voice, the audience was already cheering by his presence on stage.
When he finally started to belt out the lyrics to the country song, "Don't Close Your Eyes," King earned a huge round of applause and cheers from the audience. The judges were equally surprised and they could only look at one another in utter disbelief.
After he concluded his soulful performance, the entire studio audience along with the judges rose to their feet in admiration. King could not believe the reaction and was seen being overwhelmed with emotions and even covering his eyes.
Follow us on Twitter to learn more.
All the judges praised the fantastic voice of King. Denise Van Outen told him, "You have got a really, really lovely tone to your voice. It's a really easy listen. Now you've had this experience I think things can only improve from here."
Similarly, the other judge, Louis Walsh said that it was a "good audition" for him. He told King that it wasn't a note-perfect performance but he believed that King was "potentially really good."
But the best compliment of the episode came from the host, Kennedy, who quickly stepped forward and onto the stage while the judges were passing their comments.
"Don't you even think about judging him, he is mine!" she told the judges as she approached the Golden Buzzer. Then she hit the Golden Buzzer sending King straight on to the finals.
"I think he was going to get through anyway, but I met him backstage and I really like him as a person," she later explained.
Over the years, there have been several surprise Golden Buzzers that have left the audiences as well as the contestants overwhelmed.
In another similar incident, a 15-year-old girl surprised the audiences with her spectacular performance of "Warrior," sung originally by Demi Lovato.
Please fill in your e-mail so we can share with you our top stories!