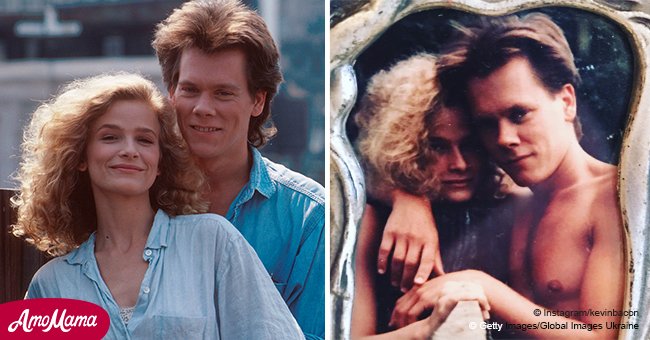 Kevin Bacon and Kyra Sedgwick celebrate 30 years of marriage, here's their love story in photos
Hollywood couple Kevin Bacon and Kyra Sedgwick have been married for 30 years.
Kevin Bacon and Keira Sedgwick were young up-and-coming actors when they met and got married in 1988.
The two met on the set of the PBS version of Lanford Wilson's play Lemon Sky, in which they were both cast.
30 years later, the couple is as dedicated and as in love as ever and they shared a history of their love in a series of lovely throwback photos, reported EN Stories.com.
"The essence of it hasn't really changed. When he walks into a room, I'm still… I mean, my heart gets a little fluttery and I think, Oh! He's so cute. He's so hot. That's literally the first thing I think."
Keira Sedgwick, EN Stories.com, September 10, 2018.
IN LOVE FOR LIFE
The famously loyal and devoted couple celebrated their 30th wedding anniversary on the 4th of September 2018.
When they were asked what the secret to the longevity of their marriage was, they didn't have any tips to share, although both agree that their continuing physical attraction plays an important part.
THROUGH GOOD TIMES AND BAD
Bacon confessed that at that time he met Sedgwick he had been at a low point of his career, but that she had given him the strength to fight for his future.
STILL CRAZY ABOUT EACH OTHER
Bacon has described Sedgwick as the woman of his dreams, and she has declared her love and admiration for his sense of honor, his ethics, and his high moral standards.
HE MAKES HER FEEL LIKE THE ONLY GIRL
Sedgwick confided that Bacon is very loving and attentive and that he always makes her feel special like she is the only girl in the room for him.
WORKING TOGETHER, LIVING TOGETHER
Bacon and Sedgwick have shared the screen several times and have a profound respect for each others' acting talent.
They starred together in "Pyrates", "Murder in the First", "The Woodsman", and "Loverboy".
They have two grown children: Travis, 29, and Sosie, 26. Sosie is following in her parent's footsteps and her acting career is flourishing, though her parents had not wanted her to pursue a career in show business. She is now currently starring as Skye Miller in the Netflix teenage drama "13 Reasons Why".
The family lives in Manhattan, far from the Hollywood hype, and commute to Los Angeles when their work demands it.
In a related story, Kevin Bacon and Keira Sedgwick posted a sweet video in which they play guitar together and sing the BeeGee's hit song "To Love Somebody" to commemorate their 30th wedding anniversary.
Please fill in your e-mail so we can share with you our top stories!