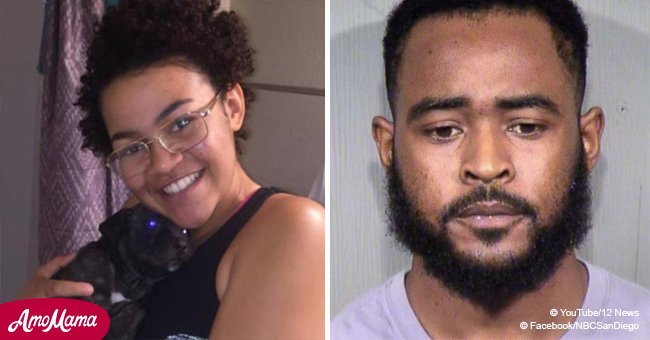 Kiera Bergman's boyfriend arrested on murder charges

Kiera Berman's ex-boyfriend has been formally charged with the 19-year-old's murder. The first-degree murder charge comes with several supporting documents.
Jon Christopher Clark previously appeared on local TV five days after the Phoenix woman disappeared from her residence on August 4.
"Kiera, if you can hear me, please come back," he said on the news station KSAZ.
Follow us on Twitter for more @amomama_usa.
"I'm sorry. I know that me not having a job was a really big issue. I did get a job, I start on Monday. Just come back. I'm not going to ask any questions. I'm not going to make assumptions. Just please come back, Kiera."
Turns out, Clark's pleading may have all been a front.
Bergman's body was found on a roadside in the West Valley on September 3 by the Maricopa County Sheriff's Office. The location was near State Route 85 and Hazen Road.
On Tuesday, Clark was arrested for her murder in the first degree. Additionally, charges for improper removal of a body and evidence tampering are also set against Clark.
The officers made it clear to KNXV they had a hunch about Clark from the start, but wanted to go through due process.
"We believed from the beginning he was involved, but without any information we didn't want to put him out there as a bad person without knowing some facts."
Kiersten Bragg, Bergman's mother, was happy to see the investigation take the turn towards justice and closure.
"I was relieved, and in a way, I'm happy. I pray that the situation opens up a lot of especially young women's eyes to the dangers that are out there and that you think twice before you get involved with certain people."
She would not wish the same for anyone else. She said, "I would hate to have to see other parents go through this. It's the worst feeling in the world."
Clark was not legally clean before last week. He was in custody since August 17 for forged documents and personal information of others found in his car during a search.
This unrelated incident led to 22 counts of aggravated identity theft and two counts of forgery.
According to Clark's Arizona Republic interview, Bergman disappeared on his birthday.
On Saturday, they were hanging out at their home near 51st Avenue and Thunderbird Road.
Clark described:
"She's trying to keep me in good spirits 'cause it's my birthday, but I was kind of sad 'cause we weren't really doing anything. And then we just started getting into a little bickering and arguing, and then she got upset and then she left."
The next day Clark urged Bergman's friend to file a missing person report. He claimed that Bergman's mom wanted to blame him "for everything." But that he "had nothing to do with anything that's going on."
Clark's bond is set at $1 million.
Back in early August, the family of the deceased made several efforts to find the young woman. They believed the circumstances of her disappearance was suspicious.
Mother Bragg said she didn't think her daughter would just go meet a random man. But a text sent to Bergman's co-worker earlier that day stated she would be doing just that.
Bragg also claimed that her daughter's mood had changed after she moved in with her boyfriend back in March.
Phoenix police called her disappearance "unique" at the time because of the lack of leads and the unusual behaviour.
Please fill in your e-mail so we can share with you our top stories!