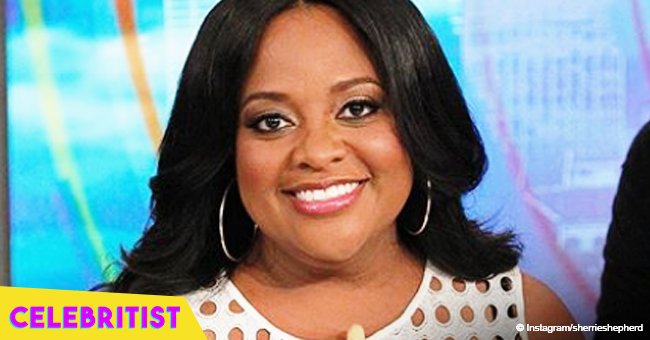 Sherri Shepherd and her son flash smiles, bearing uncanny resemblance to each other in new photo
Sherri Shepherd is melting hearts with her most recent picture, showing just how much her teenage son resembles her. The comedienne has been sharing her weight loss journey on Instagram, and her son Jeffrey is one of her biggest supporters.
Former "The View" co-host, Sherri Shepherd, is the proud mother of a 13-year-old boy, Jeffrey. The boy is continuously featured on her Instagram account, and he seems to be growing fond of the cameras just as much as Shepherd.
The mother-son duo looks adorable in a recent selfie Sherri shared on Instagram. The pic shows a close up of Sherri and Jeffrey flashing side to side bright smiles to the cameras. The teenage boy is rocking a red hoodie and his blue-rimmed glasses, and Sherri looks stunning in a black t-shirt and light make-up.
Shepherd captioned the picture:
"My motivation to get out of bed in the morning... my inspiration to be over 180 days free of #sugar ... when I am trying to figure it all out and not believing in myself, I look at his smile & know that he believes in me. That's all I need. Who believes in you? Who needs you? #sherrishepherd #singlemom #workinghard #lovemyson #teamhealthy #sugarfree #smile #jesustakethewheel (and @thedavidaarnold ... hush your mouth. I ordered them, and they haven't come in yet!) #sports #glasses by @nike."
Fans of the star immediately took over her comment section to share their thoughts on the photo. One user wrote "He is so handsome! He looks so much like you," another added, "So nice to see Jefferys BIG SMILE. SINGLE MOMS ROCK!!!! GOD BLESS," and a third one said "You look fantastic! I love you work and commitment to Jeffrey."
The 51-year-old has been sharing her journey to shed off some pounds on her Instagram, constantly updating fans on her new achievements and the struggles she has faced while trying to quit sugars. However, as she mentioned in her post, her son has become a source of strength and motivation, something that many fans found beautiful.
SHERRI'S YOUNGEST SON
A few years ago, Sherri made it to the headlines for her ugly divorce and custody battle with ex-husband Lamar Sally. The former couple had a baby through a surrogate before they divorced, but since they used Lamar's sperm and a donor egg, Sherri is not related to the baby.
So, after agreeing to follow her word and pay child support for the child, who's legally her son, Sherri decided to step out of the baby's life. She explained her reasons on a visit to Dr. Oz's show, saying:
"He's on my health insurance. He's got a life insurance policy in case anything happens to me. He'll be taken care of the way Jeffrey is. I've just chosen to take myself out because I think it's worse for a child with two parents not getting along."
Last year Shepherd claimed a significant victory on the court after a judge denied her ex-husband a request to increase Sherri's child support payments.
"Never a problem helping ex financially w his son … just wanted a fair decision and not made to pay an amount borne from greed and deception," she wrote in a series of tweets blasting not only Sally but also Jeffrey's father, Jeffrey Tarpley.
She made a rhetorical about how many ex-husbands are required to take money from a single mom, blasting her two exes for trying to take advantage of her position.
Please fill in your e-mail so we can share with you our top stories!