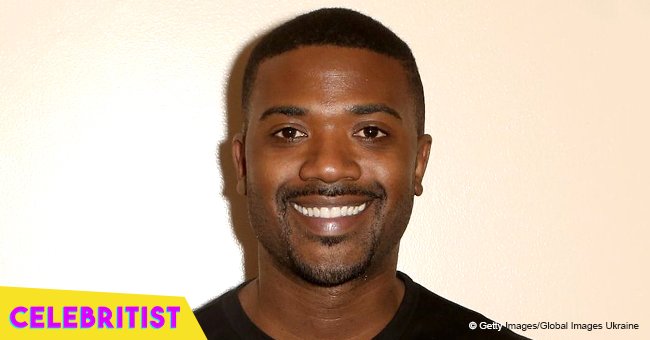 Ray J holds baby daughter with thick hair, wearing purple sports suit and white bow in new pic
Melody Love Norwood has been stealing hearts left and right on her parents' Instagram accounts, and Ray J's recent post was not the exception to the rule. The 3-months-old baby already said her first words, according to her mom.
Ray J is a working man and loving father as he takes care of his business while dotting on his little girl. The singer took to Instagram to share an adorable photo with his daughter, Melody, and the cuteness is overload.
IN the pic, Ray is concentrated on checking something on his phone while holding Melody on his lap, and the girl stole the spotlight with her adorable expression and a charming smile. The little tot was wearing a white t-shirt with a purple sports jacket and matching pants, and she completed the look with a pair of colored socks and a white bow adorning her curly hair.
"Closing @rayconglobal deals with my sidekick @melodylovenorwood," Ray J captioned the photo.
Fans of the "Love & Hip Hop: Atlanta" star took over his comment section to share their thoughts about the picture. One user wrote "She's so adorable! Always smiling," another added, "Looking like a doll!! Literally and figuratively," and a third one said "You and your wife are truly favored by God for this gift of such an aware and astounding beautiful little girl. May ur blessings continue always."
Melody's mother, Princess Love, has also been sharing cute videos and pics of the little girl, and according to the model, Melody is ready to talk since she was 2-months old. In an adorable clip Princess shared of the girls babbling, she pointed out how it seems like the baby says "I love you."
Many fans agreed with her, calling Melody a genius baby and urging Princess and Ray J to encourage their baby to start taking, reading and even writing already. Princess revealed that they're already teaching Melody how to spell her name, and by the time she starts walking, she would be familiar with it.
MARRIAGE ANNIVERSARY
Princess and Ray J recently celebrated their 2nd wedding anniversary, and the 34-year-old wrote a heartfelt message to her husband accompanied by a heartwarming picture of their wedding. In the pic, Princess is holding Ray J's chin while they kiss, and it seems like they were tasting some cake because he had a fork in his hand.
"Happy 2nd Anniversary to my husband and best friend! Thank you for blessing me with the perfect little mini-me @melodylovenorwood. Our little family is complete (for now)," she captioned the picture, and continued:
"I remember last anniversary I was crying because the test came out negative, but you wiped my tears, held me and told me everything would be ok and to be patient. Who would've known we would be spending our next anniversary with little Mels. I love you both more than anything #FamilyFirst #GODmakesNOmistakes #GodisGood #08122016."
The couple recently announced a special episode of "Love & Hip Hop: Atlanta" titled "Labor of Love" that will follow the couple's pregnancy journey and the moment they welcomed their daughter into the world.
Please fill in your e-mail so we can share with you our top stories!