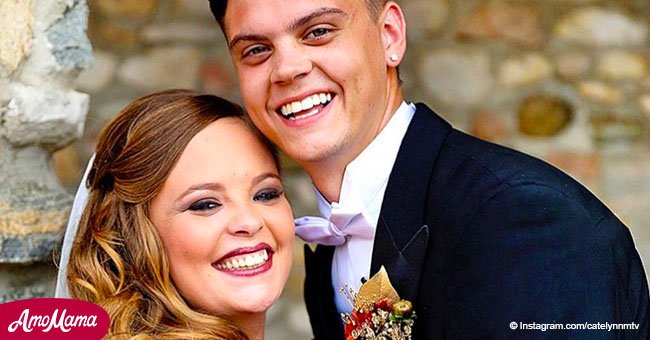 'Teen Mom OG' Catelynn Lowell is expecting baby no. 3 with husband Tyler Baltierra
After suffering a horrible miscarriage earlier in the year, the reality television personality has shared the news that she is pregnant again.
"Teen Mom OG" star Catelynn Lowell is excited to announced that she is pregnant with her third child, and over the initial miscarriage danger zone of the first trimester already.
The 26-year-old and her husband, Tyler Baltierra, are already parents to 3-year-old Novalee, and 9-year-old Carly, who they put up for adopted back in 2009.
They became famous after their open adoption of Carly was featured on the docuseries, and have stuck out their relationship since they were just kids in middle school together. The couple tied the knot in 2015, the same year they welcomed Novalee.
Lowell announced in an episode of "Teen Mom OG" in January that she and Baltierra were expecting their third child, but a month later she shared the heartbreaking news that she had suffered a miscarriage.
Her mental health took a dive again, after she had recovered from the post partum depression she had suffered after giving birth to Novalee.
"The big news is that we are expecting our rainbow baby. This baby is our rainbow after the storm. I'm super excited," Lowell, said. "It was a huge shock at first. We were not planning it, especially after the miscarriage and how I went downhill with my mental illness. We were going to wait a really long time. We were using protection and everything and still got pregnant. This baby just wanted to be here. It was very unexpected."
In January, she even checked herself into treatment after the miscarriage because she was having suicidal thoughts. She had also been diagnosed with post traumatic stress disorder back in November 2017, which was exacerbated by her miscarriage.
Also earlier this year, the couple had to fight back against rumors they were getting a divorce after Lowell changed her surname on Facebook back to her maiden name.
"Tyler and I are not getting a divorce. Couples go through ups and downs. That's normal life," she said in May. "We are a solid couple that will work through anything life throws at us."
The couple celebrated their anniversary in July of this year, and have been together for a total of 13 years already.
Please fill in your e-mail so we can share with you our top stories!