Arsenio Hall's son looks all grown-up in red jacket, posing next to beautiful girl in photo
Comedy star and former TV host Arsenio Hall is the proud father of a college student that bears his same name. Arsenio Jr. has grown up to become a handsome young man, and he looks stunning and happy in one of his recent Instagram pics.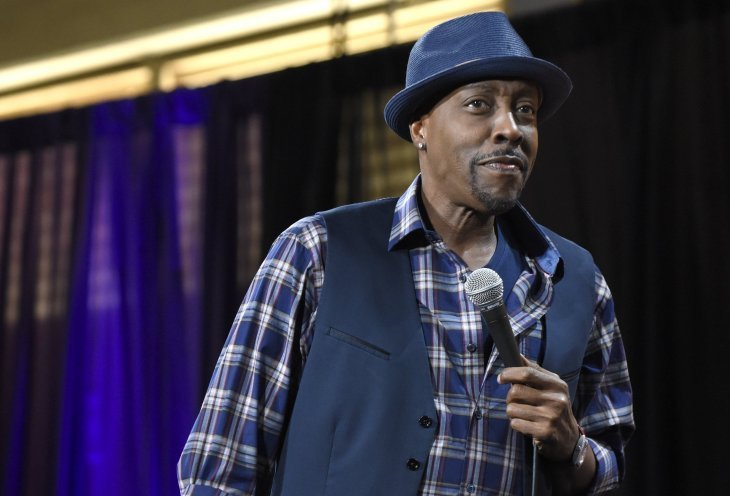 Arsenio Cheron Hall is no longer the little boy for whom his famous father stepped out of the spotlight. Now, the young man is starting to create his path in life, and it looks like he's having a lot of fun while at it.
Arsenio is attending Indiana University, and he recently posted a pic to Instagram posing next to a beautiful young woman in what looks like a party. He was rocking a blue t-shirt, red jacket, and grey jeans while posing with a hand on the girl's waist. She was donning a pink crop top and plaid shorts with suspenders.
Now that Arsenio Jr.s is in college, his famous father decided it was time for him to hit the road once again and go back to his roots with stand up comedy. Speaking to the Houston Press earlier this year, the "Coming to America" star explained that:
"Once my son was born, I didn't want to be in the clubs every night working on new material; I wanted to be there for every second. But now that I'm an empty nester, stand-up is so very important to me right at this minute. It's like a form of therapy I needed, and once it started, I couldn't stop."
Arsenio has been very private about his personal life, keeping the details of his relationship to the mother of his child, Cheryl Bonacci, away from the public knowledge. However, he opened about fatherhood, and how much it changed his life in a blog entry he wrote for News Week in 2012.
"Unfortunately my relationship with my son's mother ended early in his life, but she understood the strong bond I wanted to have with him because of my childhood," he wrote. "I was determined to be there for my son's first walk, talk, boo-boo, and whatever else. I didn't want to miss a thing."
To do that, Arsenio quit to his career for the first years of his son's life, only taking small jobs like voiceovers that wouldn't make much of his time and would not keep him away from his son. He continued:
"I knew going in that being a single parent would be one of the toughest jobs I'd ever have. I'd been a talk-show host, actor, comic, and on and on, but this gig was going to be my defining moment. So I made a decision to stop working and put my career on hold. I'm happy I made a choice to be there for my son, to watch all the games with my son, and now I just hope people still want me to make them laugh."