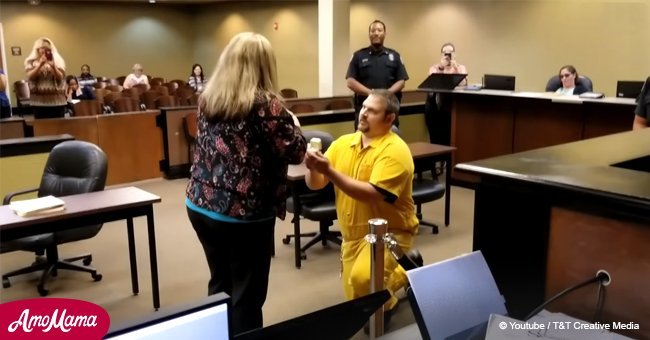 Shackled man goes down on one knee in front of a judge to propose to his girlfriend
Brett Stidham was led into the courtroom in full bright yellow jumpsuit and shackles before he knelt down and proposed to his girlfriend, Tiffany Allison, in front of a judge.
In the clip below, Allison, a probation officer and house arrest coordinator for Justice Network in Desoto County, Mississippi, can be seen shaking in disbelief as her boyfriend, Stidham, enters the courtroom in jumpsuit and shackles on August 15.
Stidham then admits that he's guilty of loving her and gets down on one knee to propose. Follow us on our Twitter account, @amomama_usa, to learn more.
Allison was sitting in Hernando Municipal Court when the judge called the court into session reading the day's docket before the police officers burst into court with a "defendant."
Allison was left open-mouthed when she realized that the "defendant" was her boyfriend, Stidham. She looked around the room for an explanation.
Stidham began to address the court by admitting he is "guilty."
"I'm guilty of being madly in love with the girl of my dreams. She's my best friend, I'll forever be in love with her," he said.
The judge then asked Allison to come over, and Stidham dropped to one knee to propose. He told her that he's ready for his life sentence.
"I knew very early on in our relationship Tiffany and I would spend the of our lives together - not long after we met I started seriously thinking of ways I would propose," Stidham said.
"This idea was the first one I was contemplating but I knew it would be a logistical nightmare to pull off - I told nobody about my plans until July 2018, almost two years into our relationship."
Stidham added: "Tiffany is really good friends with her supervisor who had been giving me a hard time I hadn't put a ring on it yet, so I revealed my plan to her and asked if there was any way she could help. She then enlisted the judge, prosecutors, court clerks and officers to help me pull off this crazy proposal. Pretty much everybody in the courtroom was in on it."
He continued that he had the officers bring him in front of the judge and then he just took over.
As Allison and Stidham hugged, led by the judge, the court broke out into a round of applause.
Allison said yes, and when the couple left the courtroom, they were met with a chorus of cheers.
In another instance, Wyatt Roberts, a paramedic, proposed to his girlfriend at the hospital she works in with the help of his paramedic friends.
Roberts pretended to be injured and had someone reach out to tell his girlfriend to rush to the emergency room.
As the paramedics brought him in on a stretcher, his girlfriend arrived and began crying as soon as she saw him.
While she was inspecting Roberts's motionless body, one of his friends read out a note he had written, "Baby you are my everything, everything I ever hoped for." Then the other friend read, "I have one question for you…"
The paramedics finally removed the blanket on Robert, and he got down on one knee to propose. His girlfriend was relieved to see him healthy and said yes to the proposal.
Please fill in your e-mail so we can share with you our top stories!