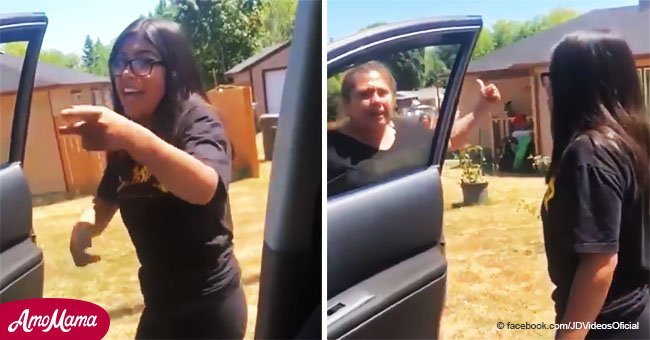 Girl who was trying to follow dangerous dance trend gets life lesson from mom
People everywhere have taken up the "KiKi Challenge" – a controversial internet stunt which consists of jumping out of a slow moving car and then walking with the car while dancing and singing to Drake's song, "In My Feelings."
The risks of this challenge are numerous, including being fined by police for reckless endangerment – not to mention the possibility of getting hurt while climbing out of the car. If you haven't seen it yet, we have some entertaining viral videos to show you.
This Mexican girl got into far bigger trouble than being spotted by police, her mother caught her doing the "KiKi Challenge" and hilariously interrupted her in a viral video.
The girl's dance was going pretty well before her mother showed up, slowly approaching from the background completely unnoticed by her daughter.
It seemed the young lady was shirking her chores to dance in the street, and that never bodes well for any teen. She even had a shoe thrown at her! Well, that escalated quickly.
It's easy to get carried away and blame the youth for all this dangerous nonsense, but then how would we justify this 93-year-old man taking the challenge himself?
This 40-second stunt was inspired by the old man's great-grandson. He wanted to show the 9-year-old that he still had it.
Looking 'hood in his ballcap, gramps proves he's got the moves like Jagger! Do you know who else is a hit with the ladies?
Drake! As proven by the little girl in the clip after this one.
11-year-old Sofia Sanchez didn't get to plan a birthday party because she was in the hospital, waiting for heart transplant surgery.
But the brave little heart warrior chose not to wallow in self-pity. Instead, she took up the "KiKi Challenge," not letting the portable IV pump get in her way, jumping out of a moving wheelchair instead of a car.
And the spunky kid went one better than all the rest and called out her favorite singer Drake and asked him to visit her in hospital.
After he saw her viral video, Sofia's idol canceled a show to surprise her in the hospital. Awwwww!
Speaking of heart, we're not sure if the dog in the next clip even knows what the "KiKi Challenge" is or is just named KiKi.
Either way, she has mad skills on that board! Who let the dogs out? Just another cool way to take your dog for a walk without getting tired yourself.
She just walks so well on her cute little paws – like a little princess!
And speaking of tired, the next dog clearly prefers to travel in comfort with the air conditioning on and a few tunes playing instead of walking on the hot sidewalk like "KiKi" here.
Jaxson Rose, the German shepherd with a penchant for hip-hop, was filmed dancing in the car to Flo Rida's hit song, "Low."
Jaxson's ears appear to have a life of their own, moving to the beat of her favorite song. Her owner says it's a dance party in the car every time her track comes on.
With over 13 million views, Jaxson's ears were nominated for an award in Fox's "Cause for Paws: An All-Star Dog Spectacular" under the Weirdest Dog Talent category.'
Not the "KiKi Challenge," but definitely a potential winner for the Golden Bone Award. Dog owners expect their dogs to enjoy music, but how do we explain the next challenger?
WAKANDA FOR LIIIIIIFFFFEEEEE!!!
What was this person even thinking of, opening his car door while on a game drive? The rhino could easily have thought him a juicy blade of grass and attacked him!
We're not sure if this rhino knows that Drake is not just another male duck, but the driver of this vehicle is certainly having a wild time!
Here are all four videos, which one do you like the most?
1. GIRL GETS BUSTED BY MOM
2. OLD MAN GETS DOWN WITH HIS BAD SELF
3. LITTLE GIRL DOES "KIKI CHALLENGE" FROM WHEELCHAIR
4. DOG'S EARS CAN'T STOP GOING "LOW"
Please fill in your e-mail so we can share with you our top stories!