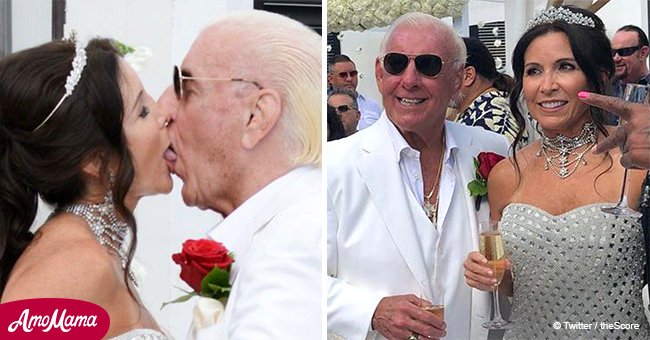 WWE legend Ric Flair ties the knot for the fifth time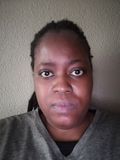 On Wednesday, legendary "WWE" wrestler Ric Flair married longtime girlfriend Wendy Barlow. This marks the fifth time that the entertainer has gotten married.
Ric Flair, 69, whose real name is Richard Morgan Fliehr, married Wendy Barlow, 58, this week at The Pearl Hotel in Rosemary Beach, Florida.
The wedding ceremony was star-studded with fellow wrestlers and other celebrities. Flair shared a video on Facebook of him walking to the wedding chapel before his fiancée joined him.
For more on this story go to our Twitter account @amomama_usa.
A Facebook live stream post on the day showed the wrestler walking down the aisle to Offset and Metro Boomin's song "Ric Flair Drip."
He wore a custom three-piece David Alan Black Label white suit with white leather shoes and a large red rose worn on his lapel to match the flower he carried to the altar.
His bride, who competed in the World Championship Wrestling league under the name "Fifi the French Maid," wore a white strapless dress with a glittering bodice and a tulle skirt.
Barlow walked down the aisle with Nikki Bella's ex-boyfriend and former wrestler "Dolph Ziggler" whose real name is Nic Nemeth.
She carried a pink rose in one hand and wore a thick diamond choker around her neck to match a sparkling tiara which she wore on her head.
Fellow wrestlers like "The Undertaker" and Michael Hayes also attended the special occasion. Former NBA star Dennis Rodman was also invited.
Flair's daughter Charlotte, who is a WWE star herself, made it to the wedding to see her father get married for the fifth time.
Dwayne "The Rock" Johnson's mother, Ata Johnson, was also present at the event. Flair and Barlow hinted about their pending nuptials on their respective Instagram accounts just hours before the ceremony.
"It's Going To Be A Wonderful WOOOOO Wednesday,"
Flair captioned a picture of himself in front of a microphone.
While his new bride shared,
"My Best Buddy From Cali is in town ...Something must be going on," and included a photo of herself with her girlfriend.
Flair is a father to 4 children with 2 of his exes. He has a son named David and daughter Megan from his first marriage to Leslie Goodman, and daughter Ashley 'Charlotte' and son Reid from his second marriage to Elizabeth Harrell.
The wrestler was married to Goodman from 1971 to1983, Harrell from 1983 to 2006 and, Tiffany VanDemark from 2006 to 2009. His most recent marriage was to Jackie Beems from 2009 to 2014.
Flair and Barlow have a long history together since the days when Flair returned to the WCW in 1993. The couple actually met in the early 1990s when Barlow was a wrestler.
The two dated for 6 years before committing their love to each other this week. On August 25, the two celebrated their anniversary.
Please fill in your e-mail so we can share with you our top stories!