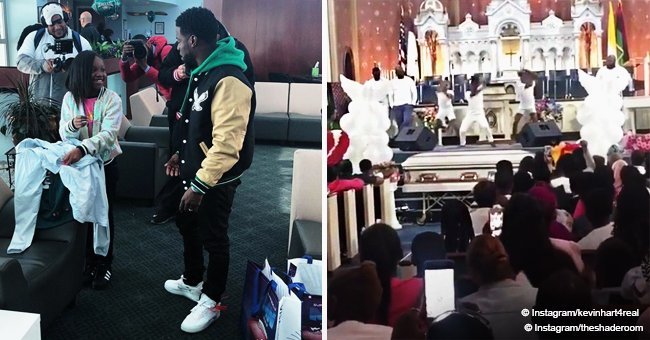 Kids dance to suggestive music at a funeral of 9-year-old who died from cancer in viral video

A 9-year-old's death became a celebration of life as her parents bid her goodbye with a lively performance of children singing and dancing.
9-year-old Saniyah Belle who was diagnosed with DIPG, a form of brain cancer has passed away. While her friends and family mourned her death, they also paid tribute to her lively spirit by preparing a vibrant ceremony for her funeral.
In a video shared by The Shade Room featuring Saniyah's unique funeral, a group of children is seen singing and dancing to the tune of YG's "Big Bank."
Dressed in white, the kids gave it their all as they performed on the pulpit in front of guests.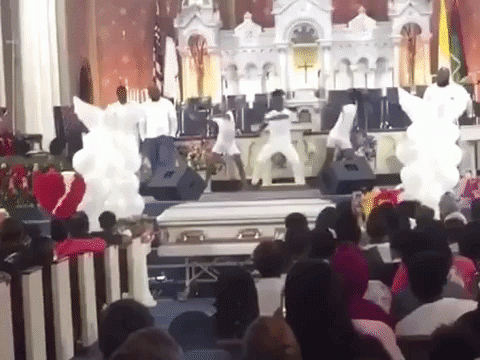 Source: Instagram
The video which has now gone viral earned both praises and criticisms directed at the parents. While others lauded Saniyah's family for celebrating life despite their loss, there were those who felt the performance was inappropriate.
"I hate this little girl had such ignorant parents R. I. P. Baby girl,"
"I'm sorry. RIP. But this ain't it. Not in da damn pulpit. Not even 2chainz would co sign. Da pulpit! Where da preaching n praying happens. The holiest part of da church. I'm not a saint...but come on now. Do this at da repast. To each their own."
Meanwhile, comedian Kevin Hart, Saniyah's idol, expressed his sadness upon hearing of her death. Last year he paid an emotional visit to Saniyah and kept in touch with her online after.
Meeting Kevin was a dream come true for Bell and the news of her death struck a chord with Kevin. In an Instagram post featuring a photo during his visit to Saniyah, the actor wrote,
"While overseas on my European tour I was hit with some devastating news. I was told that Niyah recently passed away. I met her in person once and talked to her on FaceTime several times....she was suffering from DIPG...which is a rare form of cancer. Her spirit was always so positive and vibrant. Heaven has gained an amazing angel...RIP sweetie....please give my mom a hug for me."
While there are many traditions surrounding funerals, it is not uncommon for others to conduct performances to pay tribute to the deceased.
In Mandeni, KwaZulu-Natal in South Africa, some performances during a funeral could also be a means of exacting revenge on those responsible for the death of their loved ones. For instance, last year, a man was hired to dance naked during the funeral of a man who was murdered and whose killers remained at large.
According to the dancer, Baba Shandu, he was called by the deceased family to dance in the funeral naked in order to return death to those who committed the crime. Shandu said he was an "inyaga" who makes wishes come true. Though some may be averse to the naked dance during a funeral, it's still part of an African culture that deserves to be respected, much like Saniyah's lively funeral.
Speaking of funerals, the late Aretha Franklin's was both a tribute and a celebration as singers entertained guests with moving performances.
Jennifer Hudson stopped hearts with her emotional rendition of "Amazing Grace" while a barefoot Fantasia Barrino delivered a soulful tribute singing Franklin's songs "Precious Lord, Take My Hand" and "You've Got A Friend" along with a choir.
The 6-hour service also saw performances by Ariana Grande, Chaka Khan, and Faith Hill.
Please fill in your e-mail so we can share with you our top stories!