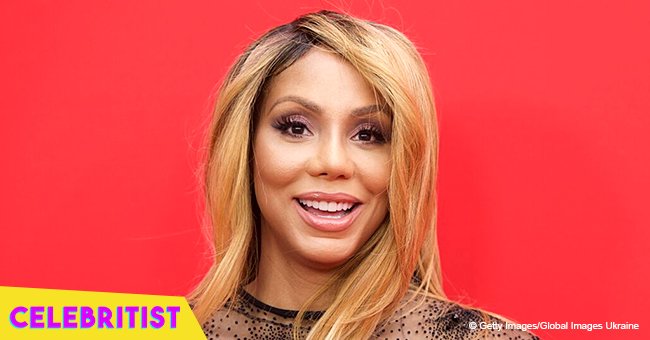 Tamar Braxton reveals she's 'very much' in love with new boyfriend after 3 months of dating

Tamar Braxton does not hold back as she talks her new boyfriend's hot body and brains on television. After three months of dating her new boyfriend, Tamar admits that she is 'very much in love.'
Singer, television personality, and actress Tamar Braxton guested on Wendy William's Show and professed her love for her new boyfriend after three months of dating. Her boyfriend, whose name was not mentioned, was described as "African, he's in wealth finance, he's got dreads… he's got a nice body" Additionally, he is a Harvard businessman who is driving Tamar insanely in love.
This star is love struck with her new Nigerian of a boyfriend who has not only brains but also a nice body. How nice? In Tamar's words "He's so fine, I can't take it sometimes. It's like a whole snack – a Lunchable."
Her appearance on the show was right after their vacation in Jamaica. The singer's emotions even matched her heart-shaped hoops during the interview. She also shared a photo of her new beau topless, under the heat of the sun. Unfortunately, his face was not seen, but we'll leave that to the audience's discretion.
Just a year back, Tamar left a nine-year wedded life with music producer Vincent Herbert. She filed for divorce on October 2017 after rumors of marriage problems and arguments.
As her luck in love ran out then, it seems to be coming back now. Although her new relationship has only been three months long, "it feels like forever" to Tamar, and it feels like she's pretty serious about this one. She admittedly said that marriage and having children has been on her thoughts. She happily shared: "I would love to have some wonderful, beautiful African for the Lord!" This would only mean new siblings for Tamar's five-year-old son with Vincent.
Tamar had more to say on the entire interview about her life – particularly on love and men. The full interview was broadcasted on Wendy Williams show.
Please fill in your e-mail so we can share with you our top stories!