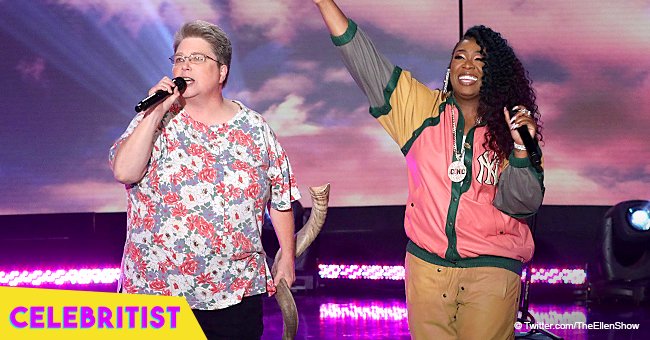 Missy Elliott surprises her 'Funky White Sister' onstage while performing 'Work It'
Missy Elliot takes notice of a karaoke performance by Mary Halsey of his song "Work It." Halsey was referred to by the hip-hop star as his 'Funky White Sister' and gave her a surprise while performing on Ellen.
Mary Halsey's video of her performing "Work It" at a Goddard Park, Rhode Island went viral on the internet only after hours of posting it. The internet did its magic and made gave the video notice to superstar Missy Elliot. The singer even retweeted and commented about how much she loves Halsey's karaoke performance. Moreover, Missy Elliot referred to Halsey as his "Funky White Sister."
With the video continuing to gain attention on the internet, Mary Halsey was invited to guest on the hit TV show The Ellen DeGeneres Show last September 13. Of course, Halsey had to do a performance of "Work It" for everyone, but to her surprise, Missy Elliot joined her on stage.
It is such an Ellen thing to surprise her guests with famous people. It simply amazing to have two talented people on stage; one being a surprise appearance. Missy, later on, talked about what stunned her most about Mary's cover and what the song "Work It" actually means.
Mary Halsey's rendition was honestly really good, which is probably why the rapper took notice of it. It was also quite a shock because Mary does not really seem like someone who would take interest in the gene. Then again, you should never judge a book by its cover.
Mary mentioned that even she was left in awe when people were starting to take notice of her video, what more when Missy Elliott herself did. Halsey said, "It was a shock. I never expected this."
Halsey revealed too that she isn't new to the performing the song. In fact, she has been singing it for 15 years now – first being when she joined a contest in 2003. She refers to the song as her "go-to song" and gives her all the positive vibes.
Recently, Missy also paid tribute to her good friend Aaliyah, who passed away 17-years-ago. On Twitter, the star, who has always been fond of commemorating those close to her, made sure to acknowledge her death anniversary.
"Aaliyah (Babygirl) I can only imagine how great you would be today winning Oscars & creating sick music & still setting fashion trends! Your mom & brother @RAD_6 & your fans been holding it down 4 u you will always be A One in A Million sleep peacefully angel Babygirl"
Gone too soon, Aaliyah died at the age of 22 after her plane crashed while wrapping up the music video shoot for "Rock The Boat". They were on the way to Florida when the tragic accident occurred, which happened due to the plane having a smaller carrying capacity than those on board.
Please fill in your e-mail so we can share with you our top stories!