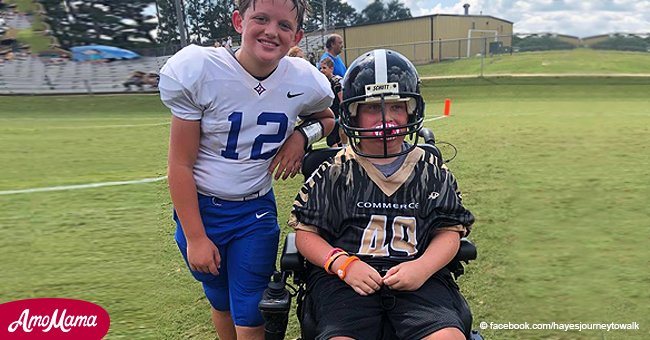 Friends helped 10-year-old boy in a wheelchair to make the first touchdown of his life
10-year-old Hayes Hutto had long dreamt about becoming a football star. His classmates came together to help him achieve his dream despite his struggle with cerebral palsy.
According to Unilad, Hayes was diagnosed with cerebral palsy at just 18 months of age. It is a condition which causes movement and coordination disorders for life.
The Georgia boy has been through motor ability issues his entire life and he even has to use a wheelchair for moving about. But that didn't stop him from dreaming about playing football.
Despite his physical health and his age, he has shown a surprising determination and passion toward sports. His resilience strengthened by the support of few of his friends has now helped him score his first ever touchdown.
Follow us on Twitter to learn more.
The touchdown happened while his middle school football team, the Commerce Tigers, were playing their rival team, Jefferson Dragons. So the moment was quite an important one.
When he visited the game to cheer for his team on September 8, he had no idea that he was going to be a part of the game in a special way.
His first surprise was the announcement that he would be leading the commerce team from the tunnel at the beginning of the game.
While he watched the game from sidelines, one of the members of the team, Brody, who is also Hutto's best friend, invited him to play by handing him a Commerce football jersey.
On the field, Brody, a quarterback, passed Hutto the ball and the crowd collectively chanted, "Hutt-o! Hutt-o!" Hutto then headed 65 yards down the pitch and scored his first ever touchdown.
Hutto's proud mother described the moment as 'one of the most humbling moments' in her life.
Meanwhile, Hutto's proud father, Jon, said Channel 2 Action News, "We weren't expecting for anything to happen other than being on the sideline with the team. The coach said he was going to try to put him in."
Cerebral Palsy is a tough disease to face at any age. However, these little ones often surprise us with their remarkable courage and strength for living with the condition.
Back in July, a 9-year-old girl with cerebral palsy also surprised the world with her unwavering courage when she saved the life of her 18-month-old brother who was drowning in their pool.
Please fill in your e-mail so we can share with you our top stories!