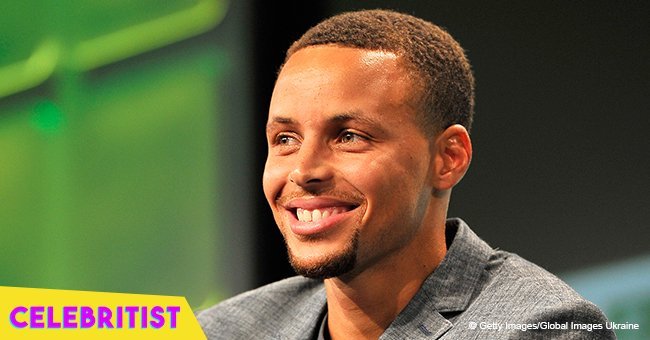 Steph Curry's wife flaunts enviable legs in golden jacket mini dress in photo with her 'girls'
Ayesha Curry gave birth her third child two months ago, but she's already looking as stunning as ever in recent pics of her "girls' night out" with friends. Ayesha and Stephen are one of the youngest couples in the basketball industry, and they are already a family of five.
Cookbook author, TV producer and host, restaurant owner, wife and mom of three, Ayesha Curry still finds time to have fun with her girlfriend while taking a little break from her obligations to look good and pose for pics flaunting her long legs.
In a recent photo shared to her Instagram, Curry looks stunning in a golden jacket mini dress tied to the waist that barely covered her thighs, while giving a sultry look to the camera. Ayesha completed the look with black heels, and a strong makeup to enhance her facial features.
"Girls night was "great success." I like," she captioned the pic. Ayesha was having a fun night with Mia Wright, the wife of NBA player Dorell Wright, and model and actress Sabina Gadecki.
Fans flocked Ayesha's comment section with praises about her look, her post-baby body, and her toned legs. One user wrote "Was going to comment you're looking great after just having a baby .... but you looked amazing even while pregnant! Fierce and beautiful!" and another added, "Legs for days."
Ayesha and her husband, Golden State Warriors' star Stephen Curry now have a "Curry party of five," after the birth of their baby boy Canon. The couple also shares daughters Riley, 6 and Ryan, 3, who are loving their role as older sisters already.
THE CURRY'S LOVE STORY
Ayesha and Stephen met when they were teenagers and attending the same church. At the time, Stephen was already besotted with young Ayesha, but he wasn't brave enough to approach her, which was probably for the best because she wasn't allowed to have boyfriends at the time.
A few years later, the pair reconnected in Los Angeles, and while Ayesha thought they were staring a friendship, Stephen surprised her when he tried to kiss her. They started dating soon after and tied the knot in 2011.
Even though they were pretty young when they got married, (22 and 23), Stephen was sure Ayesha was the one, as he revealed to Parents magazine saying: "I knew I had found the right woman and I wanted to start a life with her."
Talking about children and how becoming parents changed their lives, Ayesha said in the same interview:
"The amount of stuff you get done in a day is insane. Like, what were we doing with our time before kids? I feel like I should have invented something. [Laughter.] Also, it's an event to get all four of us out of the house at once. When we get in the car, and we've brought everything, and everybody has socks on, it's like a dream come true."
She also added that she loves how down to earth Stephen is when it comes to playing with the kids, saying:
"The thing I love about him is that he's not too cool for school. He'll get down on the floor and play with the girls. He'll put on dress up clothes if he has to, and he's very patient, which is something I'm not. We balance each other out."
The Currys are living their best life, and even though Ayesha recently revealed on her GoInspo blog that having three kids at home is a challenge, they're enjoying the journey.
Please fill in your e-mail so we can share with you our top stories!