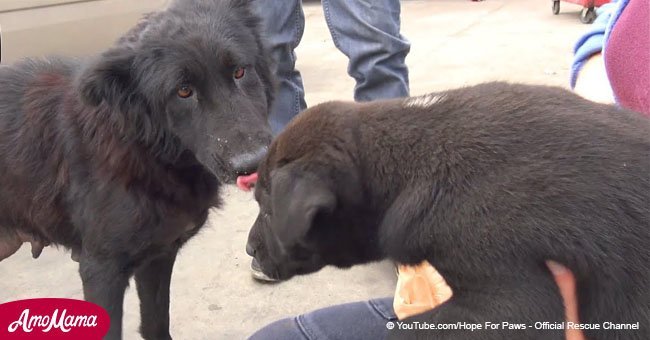 They came to rescue a mother dog and her pup and receive another cry for help soon after
After rescuing a mother dog and her puppy, the rescue team got immediately a second call for yet another rescue. This is the story of one their busiest of days.
A video uploaded to YouTube via Hope For Paws' official channel showed how the organization got together to make a double rescue within a space of a few hours.
First, Hope For Paws received a call about a mother dog and her puppies living in a junkyard. They drove out to find the dog's family and bring them to their shelter.
For over a year, a Good Samaritan had been feeding the mother, who found the dog with mere skin and bones when she first found her. The dog had only allowed her to pet her the previous week.
Follow us on Twitter to learn more.
The mother dog gave birth to nine puppies but by the time Hope For Paws arrived, they were informed there were only two left and most of the puppies had been given away by the workers.
The organization took the mother dog under their care and also found one of her puppies. The search for another puppy went on for a while before the team discovered it lying dead at a corner of the same junkyard.
As the team was returning from this rescue, they soon got a call about another stray dog and another puppy in need. They drove off toward a secluded property, where the dog, later named Bingo, had been living for months.
To get Bingo under their control, the team set up an easy trap. They first lured the dog in by giving it dog food. Then they placed the food inside a cage.
When Bingo followed the scent, it led him to the cage. He was hesitant about entering it for a while. However, after some time, he enters the cage and the door comes down.
The team then took all three canines back to their shelter, where they were bathed and treated with proper medication.
According to Modern Dog Magazine, Hope For Paws is an active dog rescue team founded by 38-year-old Eldad Hagar and his 39-year-old wife, Audrey. They have been running the organization rescuing, rehabilitating, and re-homing abandoned animals since 2008.
Such teams of animal rescue are playing one of the most important roles in the society by standing up for these defenseless and innocent creatures.
Back in June, another team of animal activists also pulled off a monumental rescue when they saved the life of more than 135 dogs during China's annual The Lychee and Dog Meat Festival.
Please fill in your e-mail so we can share with you our top stories!