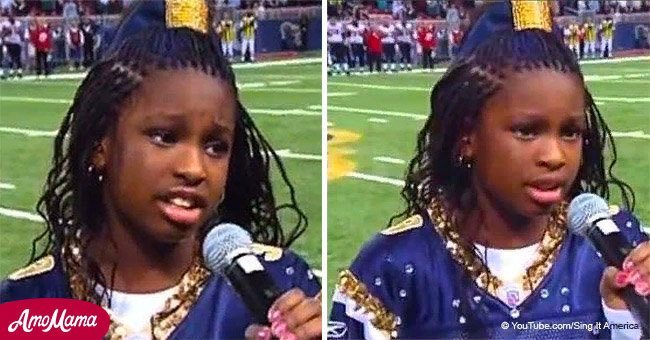 Nervous 9-year-old girl stunned the crowd with powerful national anthem performance
National Anthem sung at the beginning of any live sporting event is always one of the best things about live sports. During a 2008 football game, a nine-year-old made the event memorable with her perfect voice.
Coco Jones took the center stage in the middle of the football field prior to a football match between St. Louis Rams and Chicago Bears and sang the US National Anthem before a sea of audience donning an adorable football jersey.
A YouTube video uploaded by Jones herself on her official channel showed her smiling at the camera nervously before the event. But once she starts singing the words to the National Anthem, she proves that age can never limit talent.
Once her powerful voice starts to come out, the crowd is simply amazed and transfixed in the patriotic moment. At times, the soothing vocals coming out does not seem to match the young girl who seems to be far immature for the perfect emotions carried in the song.
Follow us on Twitter to learn more.
Her vocal is powerful in range and truly textured is sound, it also carries deeply national and patriotic sentiments which seeped into the packed stadium audience through Jones.
Her rendition of the national anthem was truly impressive and she definitely made it hers by inserting powerful notes in appropriate places giving the song a more vibrant and personal feel to it.
Not only did she deliver a flawless singing but also showed her confidence in singing before a packed audience as never once did her voice waver while singing.
Following her performance of the national anthem, the young girl also decided to let the audiences know which side she was supporting in that particular game. After concluding her song, she yelled out in the microphone, "Go Rams!" She then ran away to the sidelines.
However, her taste of limelight and fame did not stop there. Today as a beautiful 20-year-old, Jones was signed by Disney and she also starred in "Let It Shine."
Speaking about her Disney deal, Jones told Tiger Beat that a representative of the studio saw the video of her singing on YouTube after he mother posted it. Later, she also guest-starred in "So Random" and Good Luck Charlie."
Jones also revealed during the interview that she was doing a lot of plays for local school. However, her dream acting role was to play a character in a "Charlie's Angels" kind of movie.
She has so far released two studio albums but she was later dropped from her former record label after failing to enter the charts. She is currently an independent artist and shares new covers of popular songs on her YouTube channel.
Coco's amazing rendition of the national anthem during the 2008 football game has been so far watched over 6 million times and has gathered more than 54,000 likes.
We hear a beautiful rendition of the national anthem at almost all major events. They move us deeply and leave us feeling proud and patriotic.
While renditions like the one presented by Jones moved the live audience by the numbers, another version sang by a police officer in an empty courthouse inspired and impressed thousands of internet users across the country.
Please fill in your e-mail so we can share with you our top stories!