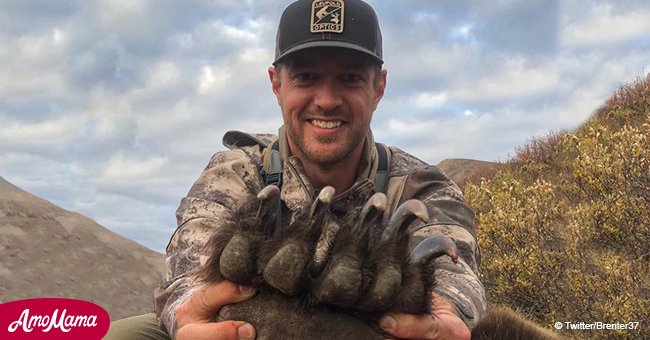 Hunter sparks outrage after posing with the giant bear he killed

A hunter received death threats after posting photos of the bear he shot.
Celebrity former professional ice hockey forward Tim Brent is used to public attention but he may have bitten off more than he can chew with an unwise post on his Twitter account.
The Canadian posted a photo of himself online with a bear he shot in the isolated Yukon province of north-west Canada on September 10, 2018.
Brent describes himself as a hunter and fisherman and demonstrates his pride in hunting moose, bear, elk and wild boar which he and his family then consume.
"Alright folks, here is my Mountain Grizzly! We put an awesome stalk on him but he spotted us at about 75 yards."
Tim Brent, Twitter, September 10, 2018.
In the post, Brent describes the hunt and explains that the bear demonstrated no fear, but "came right at us".
According to Brent, the huge grizzly strutted proudly, the master of the valley they were hunting in.
The reaction to his post was overwhelming. Over 20,000 people lashed out at the proud hunter on Twitter, some going so far as to utter death threats.
UNANIMOUS OUTRAGE AT SENSELESS SLAUGHTER
Ricky Gervais, comedy star and animal cruelty campaigner, also reacted by reposting Brent's tweet captioning it: "I bet killing this beautiful bear 'put an awesome stalk on' Tim too."
BRENT COMPLAINED TO TWITTER
Angered, Brent reported several of the comments to Twitter who told him that the commentators hadn't broken the rules.
Brent reacted by asking what a threatening comment consisted of according to Twitter's criteria.
DEFENDING THE RIGHTS OF THE HUNTERS
Brent demonstrated outrage at the reactions, saying that he didn't understand such anger leveled at hunters and "conservationists" such as himself.
Brent also shared images of himself hunting with his wife, and of his fridge packed with the meat of the animals he shot.
THE PRICE OF A LIFE
Yukon Hunting Region regulations allow hunting of bears in the area with a license, and any grizzlies killed cost the hunter $750.
NEW JERSEY OUTLAWS BEAR HUNTING
Brent would have a hard time in New Jersey, where Governor Phil Murphy announced a ban on bear hunts on state land in August 2018.
His prohibition is effective immediately and forbids the killing of bears in any of New Jersey's state parks, state forests or recreation areas.
This is seen as an important step towards protecting New Jersey's bears, but the Governor cannot outlaw bear hunting on over a million acres of privately-owned lands in the State.
In a related story, a woman who hunted and killed a rare black 18-year-old giraffe is being widely criticized as a "savage."
Please fill in your e-mail so we can share with you our top stories!