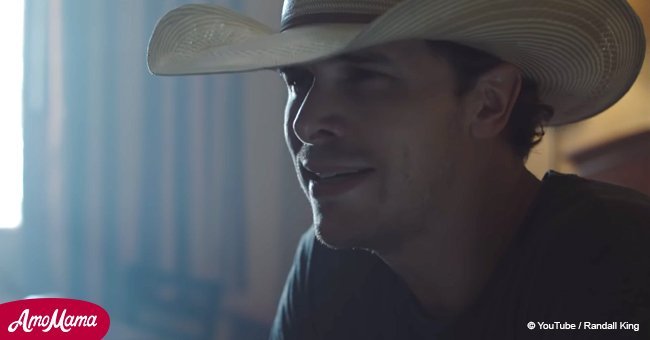 Randall King mourns his broken heart in new video
For the lover of prime classic country music, this is one singer not to be missed!
"Brandon Adams had come up to me at the campfire," King told us back in April. "He said he had this song with me in mind. He sang that very first line and I was just like 'yes, that's the one.'"
Are you a country lover? Randall King is back with his music video new for that slow, sultry melody that keeps you coming back for more.
Follow us on Twitter @amomama_usa to get more juicy updates.
If you've heard "Mirror, Mirror", you'll hear the emotion in King's music. The depth of loneliness and heartbreak he infuses into his music, giving it a soul of their own. He's known to be a revivalist and student of classic country with favorites such as "Keep Her on the Line," "Cool Under Pressure," "Takin' Me a Heartbeat" and "When He Knows Me."
King uses music for healing and aims to move on from an old flame. "Mirror, Mirror" is his second single on his new album, a self-titled full length, released April this year. In comparison to the "Tuggin' On My Heartstring", it's changed in style and has a more melodic rhythm to it. One could say, it's changed and gone through the battles and come out fighting on the other end as is King.
This ballad was writing with Lubbock songwriting friends, Brandon Adams, and Dalton Domino a couple of years ago while they were on a songwriter's retreat. The perfect place to sink your teeth into those untapped melodies and lyrics. A breather for the soul.
Here's a taster of King's new release to get your toes tapping and heart racing.
If you're into your country music, you'll agree that this matches the brand of country music King creates. He may have just started on this road of classic country, but he shares the same style of many traditionalists from the 80's and 90's, such as George Strait, Garth Brooks, Keith Whitely, and Alan Jackson, to name a few. He adds his own charm and sense of melody, giving it a unique blend which can only be Randall King.
King caught the attention of Garth Brooks earlier this year who invited him to co-write a session in Nashville. Together they wrote "The Road I'm On" which is a must hear to those country-lovin' fans out there!
KING IS ON THE ROAD AGAIN
Joining fellow songwriter, Kyle Park for a few shows in Texas and the Midwest this fall - dubbed Dancin' & Drinkin' With Kyle Park and Randall King - be sure to get your tickets and clear that calendar!
Details below:
Kyle Park & Randall King's Fall Tour
Oct. 18 — Stephenville, Texas — Twisted J Live
0ct. 19 — Wichita Falls, Texas — Boulevard Nightclub
Oct. 20 — Nacogdoches, Texas — Banita Creek Hall
Oct. 25 — Amarillo, Texas — Hoots Pub
Oct. 26 — Lubbock, Texas — Charley B's
Oct. 27 — Cedar Park, Texas — Wild West
Nov. 14 — Kansas City, Mo. — Knuckleheads
Nov. 15 — Fayetteville, Ark. — George's Majestic
Nov. 16 — Manhattan, Kan. — The Hat
Nov. 17 — Kearney, Neb. — JD's Bar
Dec. 20 — Corpus Christi, Texas — Brewster Street Icehouse
Dec. 21 — Spring, Texas — Big Texas Dancehall
Dec. 22 — Beaumont, Texas — Dixie Dancehall
Be sure to book your tickets today for a chance to listen to your one and only, Randall King, live. Sharing his heart and soul through none other than that good old classic country music.
So sit back, relax and put your feet up. Let the King entertain you this year.
If you loved the sweet country sounds of Randall King then have a look at this and get all the scoop on his brand new album "Another Bullet". More emotion. More country for your soul.
Please fill in your e-mail so we can share with you our top stories!