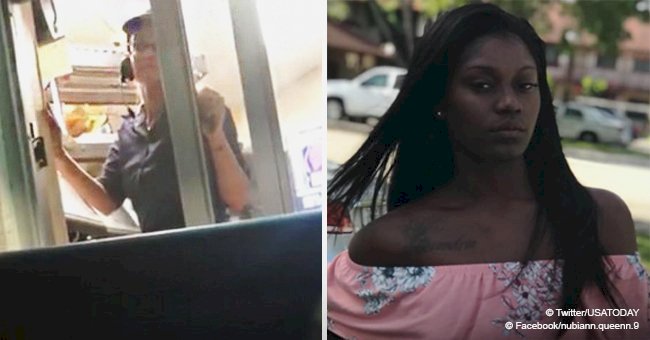 Hispanic Taco Bell worker is fired after she refused to take English-speaking customer's order

The video of Alexandra Montgomery trying to get food at a Taco Bell store in Hialeah, Florida, went viral after the employee named Luisa refused to take the order.
In the three-minute clip that Montgomery, who is African-American and labeled the incident as racist, uploaded to her Facebook page, she and a man were parked in front of the drive-thru window talking to Luisa.
Montgomery asked the employee if there was a manager in the store because Luisa wouldn't take her order alleging that she didn't understand English and that all she spoke was Spanish.
Later, the employee asked the Montgomery to move the vehicle as there was a long line behind them trying to get some food, but the couple refused to do it as they also wanted to order.
Luisa shut the window and started using the phone. She later opened the window again and said that she would call the police if Montgomery didn't move the car.
NOBODY HELPED
Another employee approached the window to tell Montgomery that they couldn't take their order because they didn't speak English, and Luisa asked again to move the car due to the long line behind them.
"She doesn't want to help me because she don't speak English but you know the menu, so you know what I'm talking about if I say I want number 6 on the menu. You don't just completely shut me out because you don't speak English, that's not fair [sic]," she added.
THE DECISION
Taco Bell Corp. later released a statement to Daily Mail admitting that such behavior didn't meet their customer experience expectations and that the individual, who was the general manager on that shift, had been fired.
Even though the city where the Taco Bell restaurant is located (Hialeah, Florida) is a predominately Hispanic area, several people who watched the video considered that Luisa could have been more helpful and found out a way to help Montgomery.
ANOTHER INCIDENT
A
heated
argument at a Mexican restaurant called Chacos, located in San Antonio, Texas, was captured in video. One of the employees threw several plates at a customer, what started a fight.
Other staff members intervened in the situation to avoid it to escalate, but they had a difficult time to control the customer.
Please fill in your e-mail so we can share with you our top stories!