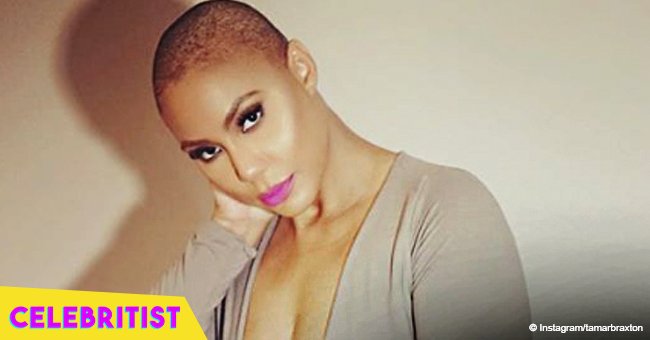 Tamar Braxton flashes brassiere in tight, sheer top after revealing relationship status

Tamar Braxton flaunts her slim physique in an all-black outfit that featured a tight sheer shirt which flashed her bra. The reality TV star's post comes after she revealed her happy relationship status with her boyfriend of three months.
Tamar is feeling extra confident these past few months, and this could be thanks to her new love interest. On her recent interviews, she does not hold back when speaking about her new beau, saying that after three months of dating, she is "very much in love".
Singer, TV personality, and actress Tamar Braxton guested on the "Wendy Williams Show" recently, and her boyfriend, whose name has still yet to be discovered, was talked about by the host. According to the reality TV star, he is African, in the Finance world, has dreads, and has a nice body.
Indeed, Braxton was seen cozying up next to a tall and muscular man recently, which proves that she has indeed been going public with her new boy. Aside from his credentials, her boyfriend is also a Harvard businessman, whom Tamar thinks is finally "the one".
"He's so fine, I can't take it sometimes. It's like a whole snack – a Lunchable."
Now that it seems her divorce with nine-year husband is in full swing, Tamar is open to dating a bit more seriously. She filed for divorce on October 2017 after numerous problems and arguments.
Tamar and her estranged husband Vincent Herbert share a child together, and although he currently lives with the actress, one of the things being finalized in court is actually his custody given his young age.
It'll only be a matter of time before their divorce is finalized, after which Tamar and her beau are free to be together for the rest of their lives if they'd wish.
Please fill in your e-mail so we can share with you our top stories!