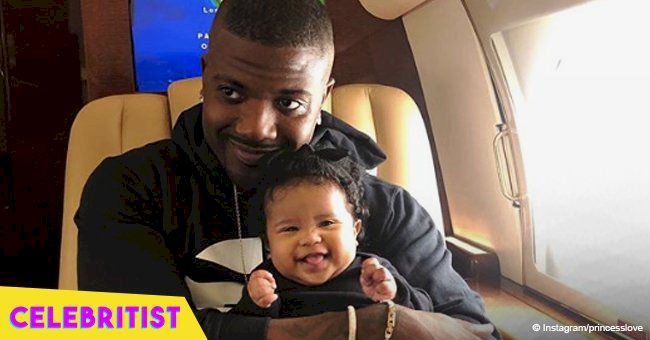 Ray J captures hearts while lovingly stroking his daughter's hair in touching video
Ray J is new to being a father and all of Instagram agrees that he is doing it right as he lovingly strokes his daughter's hair in a touching video.
Ray J has captured the hearts of many Instagram users as a video of him stroking his daughter's hair was posted. The video posted by Princess Love Norwood with the caption "They're both daydreaming" reached more than a million views and almost 7,000 comments. The clip showed Ray J on the phone while stroking his little daughter Melody's hair as she sat on his lap, looking at him with stars on her eyes.
Talk about relationship goals, but the father-and-daughter type that many aspire to have. Even Instagram users have noticed the sweet relationship that the duo has, and they've began to gush about the adorable father-and-daughter relationship that the two of them had, saying:
"that daddy-daughter love…it's a whole other level"
"I love the way you adore your baby girl @rayj that's such a beautiful thing"
"This The Best One So Far. Father And Daughter Time."
Praises for Ray J also flooded the comments section, affirming him for taking care of his daughter.
Daddies-to-be can definitely look up to Ray J and see that you can be productive and keep working on the phone while giving love and attention to your daughter; not to mention stroking her hair. This will totally make your child love you, just like how little Melody shows her love by looking at her father and holding his hand. The two seem inseparable from this photo, and it seems that's pretty much how it is in real life.
Melody Norwood has been getting loads of comments on social media about how she looks like a real-life doll. The adorable baby definitely left users gushing over her cuteness leaving them wanting to pinch her cheeks. Photos of her are usually posted by her mama, Princess Love Norwood on Instagram.
Please fill in your e-mail so we can share with you our top stories!