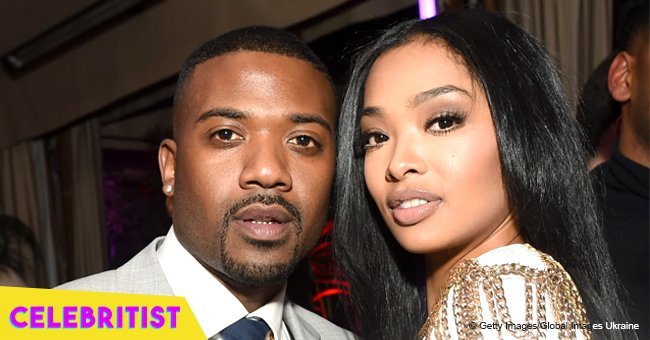 Ray J & Princess Love's private jet makes emergency landing after 'scary' in-flight incident

Footage taken by Ray-J on board a problematic flight to New York reveal details surrounding the emergency landing their plane had to make after it made unusual noises. Ray-J was with his wife and daughter and tried to appear calm why praying for his family's safety.
En route to New York from Los Angeles, Ray J and Princess Love's private plane was forced to make an emergency landing due to an issue with the cabin's pressure.
TMZ reported this news earlier today with footage from the scary flight. In the clip that Ray-J took while on board the problematic plane, Ray-J describes the plane as "messed up" as he says a prayer to bless him and his family while they make an emergency landing. Noises and rattling could be heard in the background signaling something was wrong with their plane. But Ray-J tried to appear calm as his wife and daughter sat silently in front of him. Ray-J says
"We gotta get to New York but before we get there we just gotta be safe and just land."
A few seconds later, the video cuts to Ray-J at the tarmac of Van Nuys Airport where their plane had just landed.
"God is good. We made it back safe," Ray-J said to the camera after exiting the plane.
"We got some of the best pilots. We just got to get another plane and get to the next city."
Now safe, Ray-J and his family are hoping to catch another flight to New York within the hour. There were no injuries sustained and no details have yet been released regarding the plane's condition.
Last week, a similar scenario occurred when Post Malone and his team made an emergency landing after their private jet blew two tires while taking off. They were on their way to London from New Jersey when the pilot decided to circle back and make a safe landing in New Windsor, New York.
Meanwhile, it's been a tumultuous year for Ray-J and Princess who've had their share of ups and downs. Prior to welcoming their child Melody to this world, they were at odds over Ray-J's alleged womanizing while on a trip in Las Vegas. Princess even got into an altercation with Ray-J's mother Sonja Norwood and sister Brandy who defended the singer from Princess' accusations. Things changed when Melody was born. The couple focused their energy on tending to their first child who's been occupying their time and their social media feeds ever since.
During Princess Love's recent birthday, all seemed well as Ray-J shared a touching video of his wife blowing out candles of her birthday cake with their daughter. Ray-J's mother also posted a greeting for her daughter-in-law which seemed to imply they've made up. She expressed her appreciation for Princess in her greeting and even told her she loved her.
Please fill in your e-mail so we can share with you our top stories!