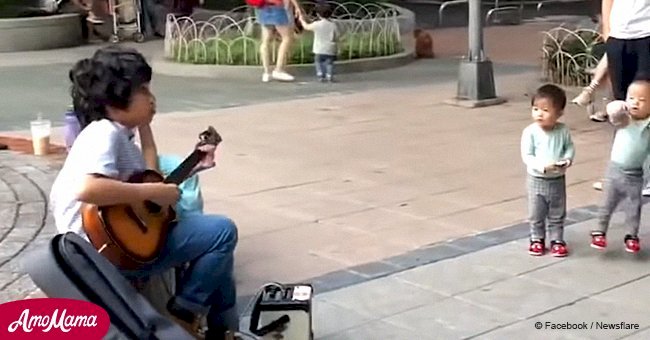 Little artist aged only 11 conquers passersby with incredible street performance

A little boy astounds passers-by with his virtuoso playing.
A little boy has been wowing audiences by playing his ukulele in a park in Taipei, Taiwan.
Feng Xiaoxiao, just 11, astounded onlookers with a virtuoso performance, demonstrating a skill and a talent beyond his years.
Xiaoxiao was filmed performing and the video was posted to Facebook by Newsflare on September 17, 2018.
''My son said he will travel to the UK and perform in a street show there. When he was in the park playing this was like a practice for him.''
Xiaoxiao has said that his ambition is to travel to the UK and to perform for tourists in London's Covent Garden.
He is a self-taught musician and displays remarkable confidence and skill as he plays a complex melody.
PLAYING A CLASSIC ON THE UKULELE
Xiaoxiao's instrument is the ukulele, a small guitar-like instrument with four strings or four courses of strings.
He played the Mason William's 1968 hit "Classical Gas" and rocked his audience with his dexterity and verve.
ANOTHER HALF-.PINT GENIUS MUSICIAN
An even younger boy left viewers gasping at his incredible skill at playing the piano.
A video showing a 4.year-old - apparently Chinese - playing the piano was posted to Youtube on August 12, 2018, and garnered over 30,000,000 views.
As the video starts, the child hits a few random keys and grins happily at the camera, as a voice off screen addresses him gently.
A TINY GENIUS IN THE MAKING
Then he launches into a rippling performance of incredible virtuosity. The little boy plays with a skill seldom seen even in great pianists. He is cajoled by his father to play several complex classical compositions, which he does with obvious enjoyment.
His incredible skill at the age of 4 promises great things for the future as he matures and his talent expands.
In a related story, 10-year-old twin brothers dazzle the audience at the "Ellen DeGeneres Show" with a heartwarming rendition of a famous R&B song.
Please fill in your e-mail so we can share with you our top stories!