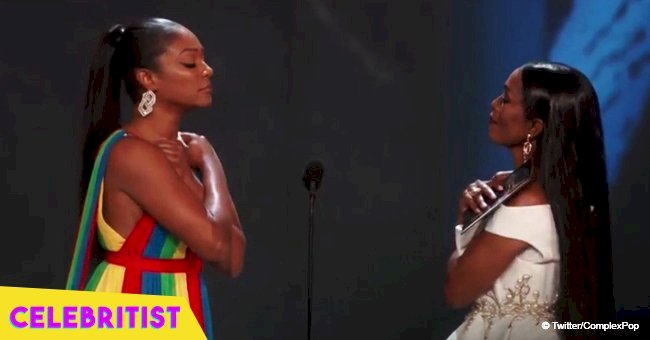 Angela Bassett rocks architectural white gown, gives 'Wakanda Forever' salute with Tiffany Haddish

Angela Bassett and Tiffany Haddish got together on the Emmy Awards stage and did the Wakanda salute from the film "Black Panther" in front of the whole audience.
Both actresses were only a few of the celebrities invited to the 2018 Emmy Awards at Los Angeles' Microsoft Theater on September 17. Bassett, who played T'Challa's mother in "Black Panther," and Haddish presented the award for lead actress in a comedy series.
At some point, they looked at each other, and Haddish said: "Royalty, royalty." Then, both women faced each other and did the salute, receiving the crowd's cheers and applause.
Apart from their original and unexpected salute, their outfits attracted a lot of sights as Bassett and Haddish looked gorgeous in them.
Bassett opted for an architectural white gown that had golden details on one side. She paired it with silver high-heels and big, silver earrings. Haddish, on the other hand, chose a loose and multicolored dress, as well as white earrings, too.
It was also revealed that Haddish' dress was designed to pay homage to her father's homeland, Eritrea, as it had the flag's colors.
As soon as fans watched the women's Wakanda salute, they went to their social media accounts – especially Twitter – to share their thoughts on it. One of them was user Michael Cook, who pointed out that both actresses doing the salute was "Royally perfect." User Mary Sanderson added that it was "everything."
The award they presented went to Rachel Brosnahan for her role in "The Marvelous Mrs. Maisel." During her speech, the actress admitted that her series addressed the importance of voting.
"One of the things I love the most about this show -- while I have you captive for another two seconds -- it's about a woman who is finding her voice anew," Brosnahan said.
She added that it was happening all over the country at that moment and that one of the most important ways that people have to use their voices was by voting.
Finally, the woman urged people to register through their cell phones and "vote, show up, and bring a friend to the polls."
Haddish ended up winning the Primetime Emmy Award for Outstanding Guest Actress in a Comedy Series.
Please fill in your e-mail so we can share with you our top stories!