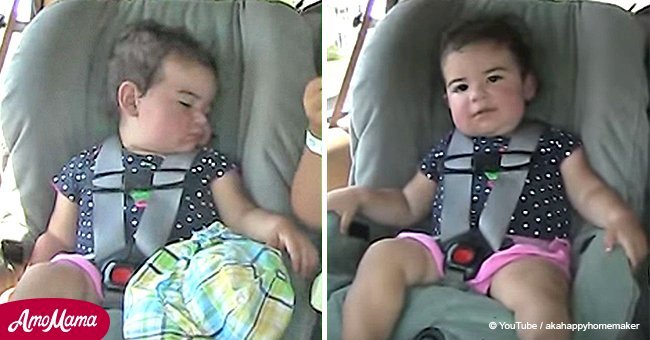 Baby awakened by favorite George Jones song steals the show with epic dance moves
This adorable baby girl was sound asleep when one of her favorite songs woke her up and her reaction is priceless.
"My eyes bugged out and my face turned blue/Light has started flashin' thunder started crashin'," he sang.
The baby girl was taking a nap while on a road trip, but as soon as she hears George Jones' song, "White Lightning", the 1959 hit, she suddenly woke up in her car seat and starts bouncing around to the rhythm.
Follow us on Twitter @amomama_usa to watch this adorable footage.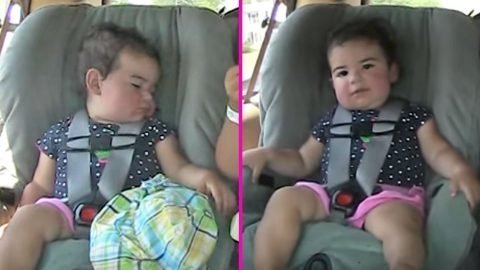 Little girl in car seat
This little girl was clearly enjoying herself. She danced throughout the entire song with a huge smile on her face.
The little girl is too young to know who George Jones was, and for those who don't know his music, you can have a look at the LEGEND himself, on Facebook.
GEORGE JONES, THE LEGEND
Watch this adorable video of the little baby girl enjoying the music of George Jones.
HERE'S THE VIDEO THAT WILL MELT YOUR HEART
If you listen to the song, "White Lightning", it's a story about a young boy's father making his own brew of moonshine. Definitely something the little baby girl won't understand, but she loves absolutely loves this song with a passion.
Here's the song that gets this little baby girl into a dancing frenzy.
GEORGE JONES BACK IN THE DAY SINGING "WHITE LIGHTNING"
George's wife, Nancy, had her own health issues as posted on Facebook. The page encourages everyone to continue to show support for the love of George's music and keep the Gospel music alive.
Like most young children, music drives them with the passion of rhythm, soul and brings out the best in them even when they don't understand the meaning behind the words. It is one thing that we all share. The gift of music, spreading meaning and immortalizing a few ourselves in those words.
Sharing the Gospel and joy to all through the wonder of music.
Here's another story about an adorable 6-year-old little girl, rocking it out in the church when the choir sings and it goes viral! You can see the video where the kids are singing and this little lady dressed in pink started clapping and waving her hands and dancing to the gospel music as she sang. It's to die for!
Please fill in your e-mail so we can share with you our top stories!