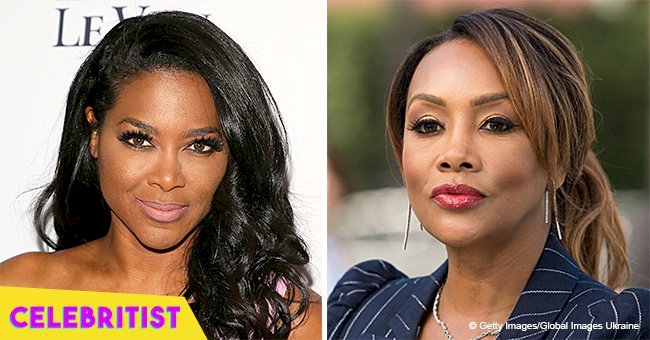 Vivica A. Fox claps back after Kenya Moore throws shade at her acting career
Vivica Fox just showed us how to do a clap back the right way. The actress had a reply for reality star Kenya Moore's shade, and it's the perfect combination of sassy and classy.
Fox was on "Watch What Happens Live" when the host Andy Cohen read her a question apparently from a fan.
"What was your reaction to Kenya Moore shading you at the Atlanta Housewives finale?" Cohen asked.
After the "Kill Bill" actress denied knowing about the shade, Cohen proceeded to explain how and when it happened.
During the Season 10 finale of the "Real Housewives of Atlanta," Porsha Williams had invited her other cast members to a play in which she starred alongside Fox. Moore, who was obviously not impressed noted that:
"Vivica's performance is the same performance. It was just 20 years ago, and 20 surgeries ago."
But Fox, 54, had just the right comeback for pregnant Moore, 47. As she told Cohen:
"At least I'm still acting 20 years later, and she was watching me."
The "Ride or Die" star wasn't done though. She took the high road and sent a sweet message to the reality star:
"But you know what? I do wish her well. I hope that baby and everything brings her happiness. She deserves that. I do wish her well. With that!"
Fox and Moore's bad blood goes as far back as 2015 when they both appeared on "The Celebrity Apprentice."Fox's denial of Moore's shade is in itself a sly attempt at undermining the reality star because back in April, Fox had offered a more heated response to the offensive comments.
"Did #ToxicTrick really think I 4got?? [sic]" she wrote. "U didn't even see me that nite of the play as u were in your seat watching me work but TRUST I always got something for ya. And let's not start about acting receipts and other thangs! Mkay MissUSA1993."
Moore, who is expecting her first child with husband Marc Daly, is yet to respond to Fox's comments. Meanwhile, the former beauty queen has been keeping fans updated on her pregnancy, noting recently that "pretty soon I'll be holding my own little bundle of joy."
Please fill in your e-mail so we can share with you our top stories!