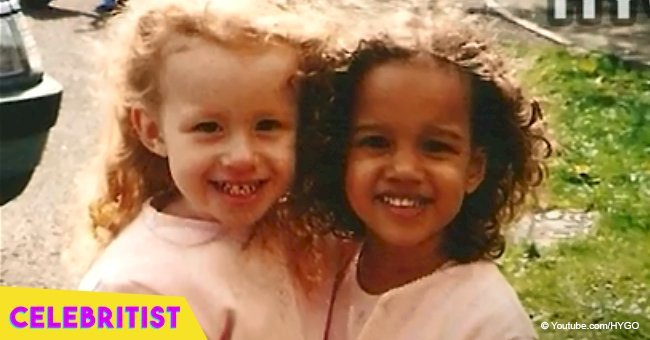 Remember unique Aylmer twin girls? They are all grown up now
Lucy and Maria Aylmer couldn't be more different, one is ginger with straight hair and a fair complexion, and the other has dark eyes, curly hair and brown skin. People can't believe when they said they're siblings, let alone when they revealed they're also fraternal twins.
The girls, now 21, gave their parents the surprise of their life when they were born. Their mother Donna is half Jamaican and their father Vince is white, but they could have never guessed they would produce such rare twins.
Their other kids look like the perfect mix of their races. They have light brown skin and hair, but Lucy and Maria inherited the extremes opposites features of each parent.
The twins were born in Gloucester, and they're the youngest of five siblings. Speaking to the Daily Mail a few years ago, Lucy recounted the shock her mom went through after the midwife handed her the newborn twins.
"It was such a shock for her because things like skin color don't show up on scans before birth. So she had no idea that we were so different. When the midwife handed us both to her, she was just speechless."
FACING BULLYING FOR BEING DIFFERENT
Unfortunately, Donna and Vince split up when the twins were still children, but they kept on co-parenting and maintained a friendly relationship for the sake of the kids.
Growing up, the twins face disbelief everytime they mentioned they were twins, with people often asking for proof of their bond. "No one ever believes we are twins. Even when we dress alike, we still don't look like sisters, let alone twins. Friends have even made us produce our birth certificates to prove it," said Lucy.
In school, Lucy used to be bullied for looking so unlike her siblings. She got used to people telling her she was adopted, and as a result of the constant teasing, she became more reserved and shy than her sister Maria.
STRIKING DIFFERENCES THAT GO BEYOND APPEARANCE
Maria and Lucy not only are different on the outside, but they also extremely opposite personalities. While Maria is outgoing, love to meet new people and loves to dress in a chic style, Lucy is more reserved, prefers punk clothing and even has perforations on her face. Lucy studied art and design at Gloucester College, while Maria studied law at Cheltenham College.
These days, the girls live in London, and even though each has their life, they're as close as ever. Lucy confessed through her Instagram late last year that after having a rough year suffering from depression and even attempting to take her life, she found the courage and strength to move on thanks to Maria.
She wrote:
"The past year and especially the last few months have been a difficult time for me to say the least, mentally and physically but I honestly don't know what I'd do or how I would've coped if I didn't have my twin, she's one of the main things keeping me going and keeping me here after all the things that's happened and after numerous attempts at trying to take my own life."
And continued:
"She's been there for me throughout everything despite my emotionally draining mental illness,' and I couldn't ask for a more caring and beautiful twin sister. I absolutely love her to bits."
Maria, on the other hand, seems to have an easy-going life. She has a handsome boyfriend and is always sharing photos of her flawless makeup, looks and lovely dates with the man.
IDENTICAL TWINS ON THE RISE TO FAME
Unlike Lucy and Maria, who live life outside the spotlight, there is a pair of twin girls that are making their way to the spotlight with their modeling career.
The 7-year-old African American girls are identical except for one detail, while Megan has blue eyes, Morgan has one blue eye and one dark brown – a rare combination.
Please fill in your e-mail so we can share with you our top stories!