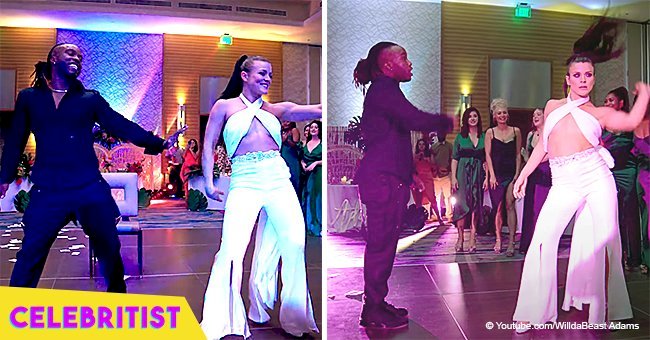 Dancers wow their wedding guests with fiery 'first dance' that traced the story of their romance

Janelle Ginestra and William Adams got married in early-September in Huntington Beach, California. Their first dance wowed their guests as they retraced their love story.
William, 30, uploaded the 8-minute video of their performance to his YouTube channel, and it showed him wearing a black outfit with a denim jacket while Janelle, 29, put on a very sexy white ensemble.
As they started dancing, several songs from different artists, including Britney Spears' "Crazy" and Nicki Minaj's "Anaconda" were played, which the professional dancers used to tell the crowd the evolution of their romance.
The choreography showed everything from when they met each other in 2009 at a dance rehearsal to when they got engaged in may 2017.
At some point during their presentation, the bridesmaids and groomsmen joined them on the dancefloor, helping the show to be as good as it was.
Seconds later, Janelle and William took the middle of the stage wherein the bride kissed the groom in a very adorable way to then "choke" him, following the song's rhythm.
William took off his jacket and started "naming" several women, what seemed to surprise Janelle. Then, she did a solo and even invited her bridesmaids to the center of the dancefloor again.
The man and his groomsmen quickly pushed them out of the spotlight and showed off their dancing skills, too.
Reaching the end of the presentation, the couple did a powerful duo that the crowd clearly enjoyed, and finally, they invited the groomsmen and bridesmaid to the dancefloor one last time.
Even though the clip has been on YouTube for less than two weeks, it has garnered about 300,000 views and 12,000 likes.
Janelle also got the opportunity to write on Martha Stewart Weddings' website giving some tips for prepping for the first dance.
In it, she revealed that nothing was more stressful than perfection, so the first dance should not be perfect. She added that the guests don't know the steps, so if people improvise a bit during the presentation, they won't notice it.
Janelle also said that rehearsing was the best way to avoid mistakes so that people should invest enough time in it to prevent their first dance from failing. Finally, she pointed out that everybody had an opinion, but that the couple's desire was the most important.
Please fill in your e-mail so we can share with you our top stories!